"Christianity offers every individual their own heritage, supporting both a personalized and a social humanism," statement by the Council of Bishops Conferences of Europe
Wednesday, 03 October 2012, 12:59
On September 30, 2012, the Plenary Session of the Council of Bishops Conferences of Europe (CCEE) concluded in St. Gallen in Switzerland. At the end of the meeting the members agreed on a text regarding issues in evangelizing Europe. They emphasized the relevancy of Christianity since "it proposes to every individual one's own unique heritage, supporting personalized and social humanism."
In the documents the Church heads voiced their doubts about the effectiveness of an economical policy of non-intrusive and ethical liberalism.
"The secular culture in which there is an ongoing struggle among different ways of perceiving a person, should not look at Christian epistles as suspicious; it actually opens up its wings of faith and reason.  Both wings belong to European history and form the basis of our civilization—notes the document.  The Church,   in witnessing its faith through living, joins cultural and political debates and offers its experience of wisdom and culture, exhibiting the kind of contribution which a just argument can make."
"We are asking ourselves about the reasons for the irritated and systematically  contemptuous attitude towards Christian doctrine and faith and therefore, also to Christians themselves, that sometimes lead to discrimination and incites animosity.  The Christian voice is really perceived as dangerous because it is a free voice which does not bend to private interests and does not wish to be subject to blackmail.  The destabilization of persons and society is not a blessing for people; rather it is a method of  achieving specific narrow goals"  -- concludes the document.
This year St. Gallen  is celebrating the 400th anniversary of the beginning of the preaching of Christ's Bible in these lands by the Irish monk St. Gallen.  Therefore this place was chosen as a meeting for the Conncil, in which His Beatitude Sviatoslav (Shevchuk)  took part as representative of UGCC.
Note:
Council of European Bishops' Conferences in Europe is  headed by Cardinal Peter Erdo.  Its members are presidents of 33 Bishop Conferences in Europe , the Archbishops of Luxemburg  and the Principality of Monaco, the Marin Archbishop of Cyprus, the Ordinarius of Kyshenev, and the acting bishop of the Mukachevo Greek-  Catholic Eparchy.  In the Council, Ukraine is represented by three hierarchs:  the Head of the UGCC Synod of Bishops, His Beatitude Svitaoslav (Shevchuk), the Head of the Conference of Roman Catholic Bishops of Ukraine, Archbishop  Mechyslav Mokshytsky and  Bishop Milan (Shashik), Eparch of Mukachevo.
Members of the Plenary Session are the head bishops or their assistants.
UGCC Department of Information
PUBLICATIONS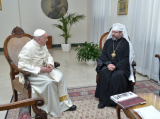 3 July at 10:00 AM, at Casa Santa Marta in the Vatican, Pope Francis met with His Beatitude Sviatoslav. The meeting was held at the request of the...
MEDIA