Commission of the UGCC on "Justice and Peace" participated in the international workshop and in General assembly in Malta
Thursday, 28 September 2012, 23:53
Since the 14th until the 18th of September 2012, Commission of the UGCC on "Justice and Peace" participated in the annual international congress of the similarly named commissions of the European Union. Among the Ukrainian representatives in this congress there were Mykhaylo Melnyk, who is the head of the commission, and Fr. Oleh Luka, who is the Executive Secretary of the Commission. In general, representatives of the 30 commissions of the European Union participated in the meeting. The topic of the meeting was - "The Arab Spring…one year later". This event took place in Rabat, which is in Malta.
During the first two days, the International Workshop on the situation in Middle East and in North Africa was held. Review and the presentation of topics about "The Arab Spring" and all the consequences, which resulted from it, was suggested by the leading experts on this issue and by such high officials of Malta as Tonio Borg, who is the Minister of Foreign Affairs, prof. Arnold Cassola and others. There was also a separate meeting taking place among the representatives of the congress with Lawrence Gonzi, who is the Prime Minister of Malta. Moreover, a series of working meetings in groups, on how to solve problems related to that topic, was taking place.
During the net days, the General Assembly of the European Commissions "Justice and Peace" was held. The representatives reviewed the document "Ethics and Finance", in writing of which the Ukrainian Commission was participating directly. General Sessions and work in groups facilitated the approval of the document.
Participation in the congress of the Ukrainian representatives became an opportunity for the establishment of cooperation with other commissions and structures. In particular, Mykhaylo Melnyk, the Head of the Commission, with Fr. Oleh Luka, the Executive Secretary of the Commission held the meeting with Fr. Alexander Cordina, who is the Vice-Rector of the regional Archbishop's Seminary in Malta. Among the topics discussed there were the possible areas of the real cooperation.
Secretariat of the UGCC "Justice and Peace" Commission
PUBLICATIONS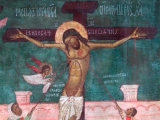 "Open to me the doors of repentance, O Giver of Life. As we worship in Your temple this morning, teach us how to purify the temple of our...
MEDIA