Delegation of the UGCC takes part in the Catholic public Social Days of Europe
Saturday, 11 October 2009, 23:37
The first Catholic Social Days of Europe are taking place this weekend, October 8-11, 2009, in Gdansk, Poland. The delegate of the meeting from the Ukrainian Greek Catholic Church, the head of the Commission of UGCC for assistance of unity between Christians Dr. Ihor Shaban, underlined that the slogan of the congress, in which about 500 delegates from 30 countries of the European Union and the nearby states will take part is "Solidarity – the challenge for Europe."
The first Catholic Social Days of Europe are taking place this weekend, October 8-11, 2009, in Gdansk, Poland. The delegate of the meeting from the Ukrainian Greek Catholic Church, the head of the Commission of UGCC for assistance of unity between Christians Dr. Ihor Shaban, underlined that the slogan of the congress, in which about 500 delegates from 30 countries of the European Union and the nearby states will take part is "Solidarity – the challenge for Europe." The participants of the meeting will be 30 bishops, academics, social activists, experts, politicians, and also the youth. At the opening and completion of the Catholic Social Days of Europe special divine services are foreseen. The first of them will take place on Thursday evening, headed by the Metropolitan of Milan cardinal Dioniggi Tettamansi. "It is necessary that we ascertain once again that solidarity in the life of the European peoples is not only an idea, but a practical element of the society, which at the same time coexists in all European states. It is important that the Catholic, or even wider Christian, voice be heard in the whole world in regards to concrete social themes," said Dr. Ihor Shaban. The conference of Gdansk will be the first meeting of the cycle of Catholic Social Days of Europe. It is planned that such meetings will take place in different states of Europe. Poland was chosen unanimously considering two anniversaries: the 70
th
anniversary of the beginning of World War II and 20
th
anniversary of the first free elections in this country. The first Catholic Social Days of Europe were organized by the Commission of European Episcopates of the Catholic Church (COMECE) and by the European Center of Solidarity in Gdansk. With the blessing of His Beatitude Lubomyr, the delegation of the UGCC – which includes Dr. Ihor Shaban, Mr. Vasyl Kosiv, deputy of the City Council of Lviv on humanitarian policy, and Mrs. Anna Okis of the Commission of the UGCC "Justice and Peace" – is taking part in the in the Social Days of Europe.
Information Department of the UGCC
PUBLICATIONS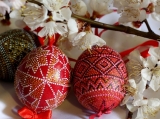 Christ is Risen! Indeed he is Risen! In the beginning was the Word, And the Word was with God, and the Word was God. All things came to be...
MEDIA