Fifteen thousand Ukrainian migrants from Italy, Spain and Portugal visited Lourdes
Saturday, 06 October 2012, 18:29
From 29 to 30 September Ukrainian immigrants in Italy, Spain, and Portugal made a pilgrimage to the world famous place of revelation of the Blessed Virgin Mary in Lourdes, in southern France. This year's pilgrimage, which for the first time included Ukrainian pilgrims from Portugal, was held under the slogan "Saving faith and identity of Ukrainian migration in Europe." Apostolic Visitor Bishop Dionisio (Liakhovych) led the pilgrimage.
A special guest of the pilgrimage was the newly ordained Exarch for Ukrainians inFrance andBenelux countries Bishop Borys (Gudziak). On September 29 he together with Bishop Dionisio (Liakhovych) and chaplains served for the pilgrims a Hierarchal Liturgy. It was Bishop Borys's first service inFrance as exarch of the country.

Preaching to the Ukrainian migrants, Bishop Borys said: "Several decades ago, few of us had even heard of this miraculous place, and our church was still being persecuted, but today we rejoice for the freedom we have."

That same evening the pilgrims prayed to Mary in the courtyard of a Ukrainian church built 30 years ago by Ukrainian immigrants. The prayer was led by Bishop Borys, who during a sermon called on Ukrainians to preserve their national and religious identity, regardless of their location and circumstances. As an example, the bishop mentioned Patriarch Josyf Slipyj, who after Siberian exile came toRomeand began to bring together Ukrainians. In particular, he urged Ukrainian immigrants to participate in the pilgrimage to the Cathedral of St. Sophia inRome, which will be held in October of this year on the occasion of the blessing of the restored Ukrainian sanctuary in theEternalCity.

About fifteen thousand Ukrainian immigrants fromItaly,Spain, andPortugaltook part in this year's pilgrimage.

UGCC Press Service in Italy
PUBLICATIONS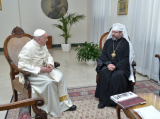 3 July at 10:00 AM, at Casa Santa Marta in the Vatican, Pope Francis met with His Beatitude Sviatoslav. The meeting was held at the request of the...
MEDIA