Film about patriarch Josef Slipyi "The Reef Case" was presented in Kyiv
Monday, 06 March 2017, 15:04
March 4th, 2017 Father and Head of Ukrainian Greek Catholic Church His Beatitude Sviatoslav participated in showing of a documentary film about patriarch Josef Slipyi "The Reef Case", which was on at "Zhovten" movie theater.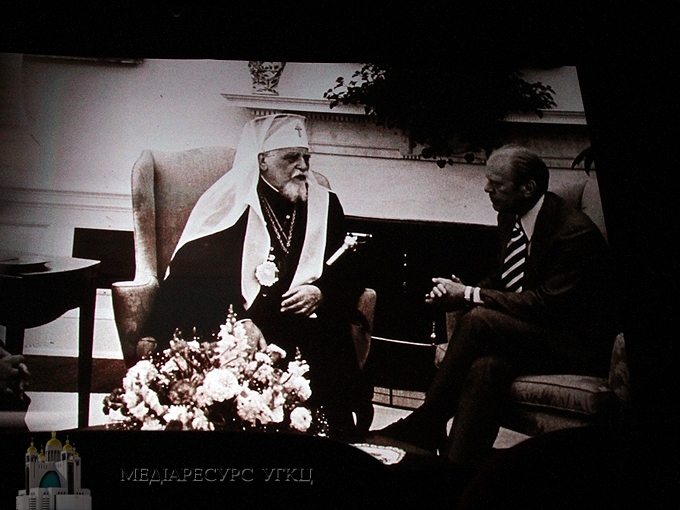 Faithful together with clergy of UGCC, politicians and cultural figures also took part in this event.
After the film's presentation Head of Church sharing his thoughts explained how "millstone of history, terrible cataclysms, world wars, political systems competing between one another, - grind an innocent human being".
"We can ask ourselves, - said the Archbishop, - is it possible to be yourself after being entrapped in these millstones of history? Is it possible to implacably grind the one they pass upon? I assume that the figure of a great Ukrainian confessor gives us a very profound respond. You can. You can be yourself'.
He says that in this film we trace a suffering way of patriarch Josef at the background of world's events. "Those millstones, that were grinding him, the world which was chasing him but didn't catch, although, as our glorious Skovoroda would say. A person who remained being himself because he wasn't bothered about his own concern. When he was tormented, he thought what was happening to his people, and when he was released he was worrying if his Church was about to be set free as well. When he was glorified, he was thinking about those who were despised. And when he was wanted to be seen mighty, he saw his nation in this light", mentioned His Beatitude Sviatoslav.
This year our Church is celebrating the 125th birthday anniversary of this outstanding man. "But, for some reason, assumed Head of UGCC, - God draws our attention to this person exactly this year, a year which is expected to be quite challenging. We, Ukrainians, religious people and our independent state are grinned again by the millstones of history, being trapped in this fight between new politicians and bargaining diplomats…"
Head of Church thinks that patriarch Josef is a real light for us today. "We have seen this odd triumvirate of differences: Kennedy, Khrushchev, Pope John XXIII and a prisoner of Christ before them. All of them step back, but he keeps on shining and acting. He is the light of faith and hope. What patriarch Josef is carrying with him today, gives us an answer for our searches and questions", - His Beatitude Sviatoslav pointed out.
Head of Church thanked everyone who worked on producing film "The Reef Case".
Film "The Reef Case" embraces the period from 1939 till 1963 and reveals unknown for many circles circumstances of arrest, imprisonment and discharge of Josef Slipyi. A special attention is focused on historical events and prominent persons of that period and their influence on the destiny of patriarch Josef Slipyi. Film characters became: Pope John XXIII, president of USA John Kennedy, general secretaries of CC of the Communist Party of the Soviet Union, Josef Stalin and Nikita Khrushchev.
The name of the film is taken from a secretive service's case "Reefs" which is kept in the archive of SBU (The Security Service of Ukraine). In 33 volumes are provided detailed documents of how soviet government was elaborating and implementing in real life a plan of destroying Ukrainian Greek Catholic Church and its Head Josef Slipyi. These documents which repressive soviet system was carefully preparing and preserving – became a basement of the film. The film is formed of testimonies of participants and witnesses of those events, comments of historians from Ukraine, Italy, USA, unique scenes of newsreel which was searched in Ukrainian and foreign archives. The writer of film consciously avoids fervor, clichés and personal assessments, giving an opportunity to talk about a great deed, devotedness and indestructability of patriarch Josef Slipyi before documents and eyewitnesses of the events.
A work on the film started in 2015, filming was set in Ukraine, Italy and Unites States.
Information about the film:
Title: "The Reef Case"
Duration: 105 min
Year: 2017
Director: Olena Moshynska
Producer: Pavlo Kazantsev
Production: "Sсreen Media Ukraine" and "Zhyve production"
Department for Information of UGCC
PUBLICATIONS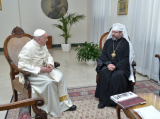 3 July at 10:00 AM, at Casa Santa Marta in the Vatican, Pope Francis met with His Beatitude Sviatoslav. The meeting was held at the request of the...
MEDIA