Final round of Song of the Heart Contest the Patriarch's competition of children songs, was held in Lviv
Thursday, 20 June 2013, 09:31
On June 14-15, in the Lviv Holy Spirit Spiritual Seminary the final round of the Patriarch's International Contest of contemporary religious songs, Song of the Heart took place. This year's competition was dedicated to the Year of Faith and the 1025th Anniversary of the Baptism of Ukraine and was carried out under the slogan "Faith, through which I live."
On June 14-15, in the Lviv Holy Spirit Spiritual Seminary the final round of the Patriarch's International Contest of contemporary religious songs, Song of the Heart took place.  This year's competition was dedicated to the Year of Faith and the 1025th Anniversary of the Baptism of Ukraine and was carried out under the slogan "Faith, through which I live."
Some 111 children, representing all eparchies and exarchates of Ukraine, participated in the competition.  There was one attendee from Australia.  The listening sessions were divided into three age categories: 7-10; 11- 13; 14-17. The participants were judged by a professional jury which included Merit Artists of Ukraine, musicians, composers, pedagogues.  The text of every song also was scored from the theological and literary aspects.
Contest resulted in16 children receiving prize spots in various age categories.  One song was chosen as the best original song.  Results of the competition are available n the website of the Patriarchal Catechetical Commission on –pcc.ugcc.org.ua.
UGCC Patriarchal Catechetical Commission
PUBLICATIONS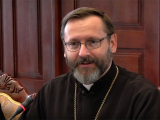 Speaking at the end of a closed-door meeting on religious freedom at the US Embassy to the Holy See, Major Archbishop Sviatoslav Shevchuk, head...
MEDIA