First Ecumenical Bicycle Pilgrimage from Zarvanytsia to Kyiv
Tuesday, 06 August 2013, 18:45
From August 10-19, the First Ecumenical Bicycle Pilgrimage from Zarvanytsia (the miraculous icon of the Blessed Mother of Zarvanytsia) to Kyiv for the Blessing of the Patriarchal Cathedral of the Resurrection of Christ and the Celebration of the 1025th anniversary of the Baptism of Ukraine-Rus, to be held on August 17-18.
The Bicycle Pilgrimage bears the motto "Christian youth for a healthy style of life, sovereignty and freedom."
Individuals aged 14 years and older are welcome to participate.
Pilgrims will be accompanied by medical personnel and traffic officers.
Pilgrims will contemplate several specific issues: praying for the addicted and incarcerated; the practical example of Christian youth to encourage a healthy form of life; attempts of the ecumenical union of Ukrainian Christians in a unified "road to God."
Pilgrimage Coordinator – Oleksandr Titsa
Bicycle Pilgrimage website: proshcha.ugcc.org.ua/?cat=8, www.facebook.com/proshcha.
UGCC Department of Information
PUBLICATIONS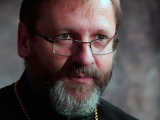 A presentation of the book "Dialogue Heals Wounds" of the Father and Head of the UGCC, His Beatitude Svyatoslav, was recently held. The book is...
MEDIA