From His Beatitude Sviatoslav on the Day of Ukrainian Statehood: Our State for us is a matter of life and death
Thursday, 28 July 2022, 22:51
Let us rediscover today the value of Ukrainian statehood for our national existence. Our State is a matter of life or death for us. And we know that life will win. The State will be protected and strengthened. And life on God-given earth will flourish and develop. The Father and Head of the Ukrainian Greek-Catholic Church, His Beatitude Sviatoslav, said in his greetings on the Day of Ukrainian Statehood, celebrated in Ukraine for the first time this year.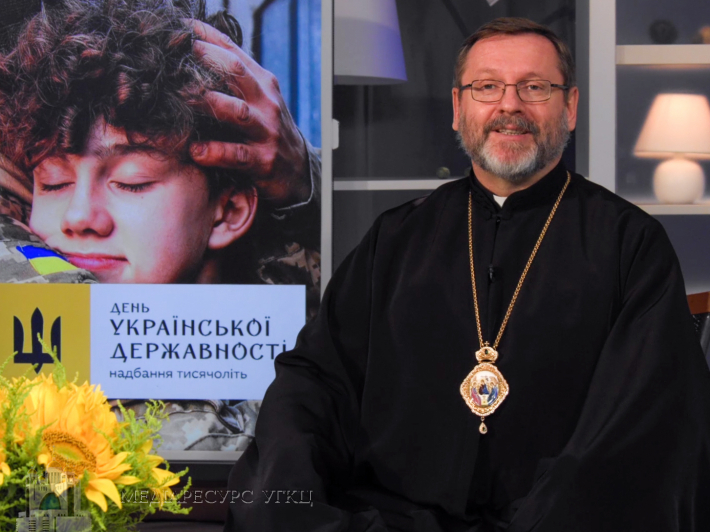 "The Primate noted that today, July 28, we are celebrating three events closely related to each other – the memory of Saint Prince Volodymyr, Equal to the Apostles, the baptizer of Rus-Ukraine, the Baptism of our people, and the Day of Ukrainian Statehood.
According to him, these three events define each other. Through the Sacrament of Baptism, God's people of the Kyiv state were born. This nation received the law of Divine truth written in its heart, which became the cornerstone of building society and relations between people in the Kyiv state. And God's law, which became the law of Kyiv Rus, initiated the formation of our statehood, which is already more than a thousand years old.
"I sincerely congratulate you on these holidays, - said the Head of the Church, - and I wish everyone that on this day, first of all, we discover in ourselves, in our hearts, the truth that we are Christians, inheritors of the faith of Prince Volodymyr, Equal to the Apostles. Only then will we be able to honor his memory accordingly."
The Head of the UGCC called on all Christians and people of goodwill in Ukraine to realize that it was in the Sacrament of Baptism that we adopted and made this legacy of Volodymyr's faith a personal rule of our life and behavior.
Therefore, today, the Primate explained, we renew our baptismal vows in our churches, renounce the devil, all his servants, and all the evil he carries.
"We now renew our oath to be faithful to Christ, to live according to His commandments. Because we understand that with this power of grace of the Holy Spirit, which flows from the Sacrament of Baptism, we can complete the work of Prince Volodymyr, not just protect our State, but strengthen and develop it," he emphasized.
Our enemy, says the Head of the Church, today wants to destroy our statehood and once again deprive us of the right to be autonomous on our free, independent land.
"But we can overcome with the power of the grace of the Holy Spirit, the power of God working in us. We are winning. And we will win," assured His Beatitude Sviatoslav.
The UGCC Department for Information
PUBLICATIONS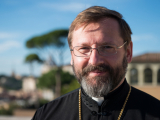 Glory to Jesus Christ! Dear Brothers and Sisters in Christ!
MEDIA