Head of PMD in Rome laid out how Ukrainian immigrants live in Central and Western Europe
Sunday, 24 June 2018, 21:37
June 20-22, in the Jesuit Curia in Rome the 91st Plenary Assembly on the Reunion of Aid Agencies to the Oriental Churches (ROACOO), gathered by Congregation for the Oriental Churches.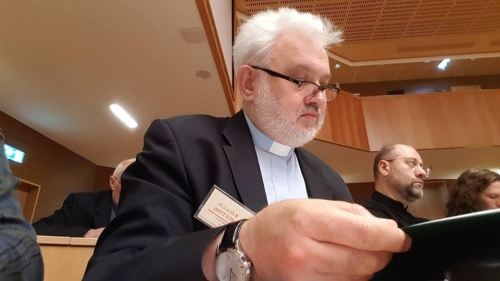 During the plenary session head of Pastoral Migration Department of UGCC bishop Josyf Milyan described a situation of Ukrainian immigrants in Central and Western Europe.
Bishop outlined that with the increasing amount of our communities abroad the necessity of well-qualified clergy is increasing along with. Thus, PMD is searching for candidates and is actually performing as a facilitator and guardian between two bishops – the one who delivers and the one who receives.
"The case of a special training prepared for priests and seminarians appointed for service abroad is our fundamental and prior target. Our task is to prepare a priest in terms of knowing language, culture and tradition of Latin Church. We have a good experience with seminarians, who are ministering in Spain and Portugal. Local bishops enrolled them in studying at their seminaries. Being formed in that environment, in future they will be able to serve both, UGCC faithful and faithful in the whole diocese", bishop Josyf pointed out.
Talking about danger what might affect communities, head of PMD mentioned that there are two of them: internal and external. Hence, the first one regards clergy and national coordinator in accordance with an instruction "Erga migrantes...". "Initially the cooperation was formed between Church, which was accepting, and Head of UGCC. Nowadays this decree is being neglected. In this case we need more extensive dialogue between our Churches", the bishop said.
In terms of war in Ukraine one more problem exists. "Variety of people are coming to our church abroad and identify with it because they share the same values, the same social doctrine. Now and again, fake social organizations, which, instead of caring for the unity integrity, divide it because of political issues. Thus, the role of a priest is essential here. Head of PMD also indicated on importance of actual performance of an organization for students' needs. As to Ukrainian survey in 2016 more than 66 thousand of people went to study abroad.
"The third problem of a community is inability to establish proper catechetical activity among our people and youth because of lack of financial support", the bishop stressed on.
Among external difficulties – it's all about unreasonable fear before other tradition in Catholic Church and bias to it.
"Somewhat more strategical steps are required in order to settle down issues regarding pastoral care of faithful of any Oriental Church, particularly for forming hierarchal church's structures in West European countries, where there is none of it. "In Portugal, Spain and Italy we need to care about a structure of our Church for better maintenance of either faithful and priests. I assume that presence of a bishop would be an opportunity for a wider dialogue. Such resolution of Apostolic See could prevent from assimilation of our faithful", added head of PMD.
Bishop Josyf also told about an activity of Pastoral Migration Department. They target on creating "Mission Institute" and "Pastoral mission fund". "Institution would give an opportunity to creating an authentic environment of our department, preparing staff with its total development".
From www.pmv.ugcc.org.ua
PUBLICATIONS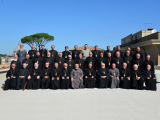 And you shall know the truth, and the truth shall set you free (John 8:32)
MEDIA