Head of the UGCC met with representatives of the Catholic Relief Service
Tuesday, 20 September 2016, 11:51
On 19th September the Head and Father of Church Sviatoslav in Kiev met with representatives of the Catholic Relief Services (CRS) - Catholic Relief Services, which is the official international Catholic humanitarian agency in the United States. Head of the Church told them about the current socio-political situation in Ukraine. "This is the biggest humanitarian crisis in Europe since the Second World War ... In Ukraine - not a civil war but aggression that affect the civilian population," - he stressed. Head UGCC expressed deep appreciation for the great financial support to the issues related to addressing the humanitarian crisis in the Ukraine.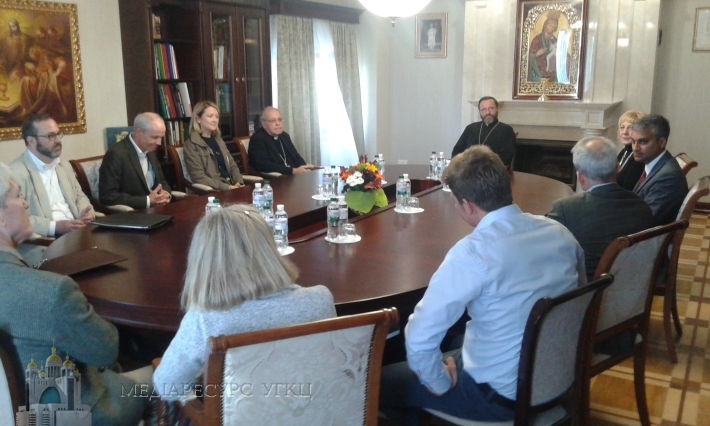 Catholic Relief Service is analogous "Caritas" in the United States, which established US Bishops' Conference. This organization provides financial support and acts as a partner, through which the US government sends humanitarian aid. According to Fr. Andryi Nahirnyak, Head of Social Affairs of the Patriarchal Curia of the UGCC, vice president of CF "Caritas Ukraine", the Catholic Relief Service is one of the largest donors, because its aid more than 10 million US dollars. "This visit is monitoring its members whom want to see how the projects are carried out, supported by the Catholic service in Europe", - he commented.
In the first days of stay in Ukraine delegation Catholic Relief Service visited Kyiv, and tomorrow will be meet with representatives of Bishop Vasyl (Tuchapets), Bishop of Kharkiv Exarchate UGCC, and representatives of the Foundation "Caritas" in Odessa.
Department of Information UGCC
PUBLICATIONS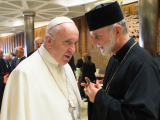 An unprecedented event took place in Rome on July 5-6. Desiring to demonstrate support for the Ukrainian Greek-Catholic Church at a time of...
MEDIA