Head of the UGCC: On the Maidan, our people have put forward a high moral framework according to which we evaluate politicians, public figures, the life of the Church
Thursday, 21 November 2019, 15:11
The Revolution of Dignity is a turning point for the Ukrainian people, because then the Ukrainian people clearly stated that we have the consciousness of the European nation.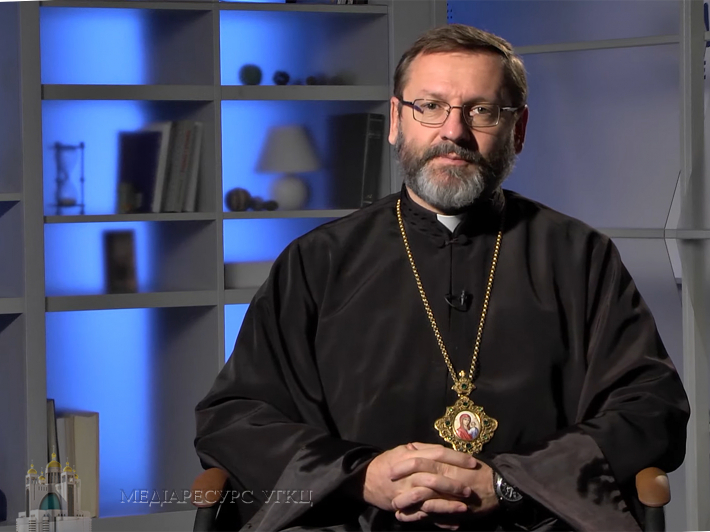 This was emphasized by His Beatitude Sviatoslav, Father and Head of the UGCC, during the Open Church program on Wednesday, November 20, 2019. The journalist Saken Aymurzaev became the interlocutor of the Primate of the UGCC.
These days our Church and the whole society celebrate the Feast of the Sobor of Archangel Michael, as well as the Day of Dignity and Freedom - a holiday in Ukraine, celebrated annually on November 21 to commemorate the beginning of two revolutions: the Orange Revolution (2004) and the Revolution of Dignity (2013).
"We begin to understand the phrase earlier said by Pope Benedict XVI that every time one realizes his dignity, a real revolution occurs. I think the Revolution of Dignity was a turning point in the post-Soviet historical period. Now we understand more deeply that on the Maidan the Ukrainian people put forward a certain paradigm of a new era, which we are entering. It is a paradigm that can truly be called the paradigm of freedom. Because we understand that freedom is not just the absence of external coercion or a system that limits your freedom of thought and action. Freedom is a spiritual category. His Beatitude Lubomyr Husar said that freedom is the ability of a person to do good, not because someone forces me to do this work, but because I want good for my people, my neighbor and myself," said the Head of the UGCC.
The Primate emphasized that prayer and Christian foundations were an important element of the Revolution of Dignity.
"The dignity of each person is rooted in the dignity that the Lord has bestowed upon her, creating her in His own image and likeness. Therefore, rediscovering it and having the freedom to declare it to the whole world is an important stage of ​​our society, which the Lord revealed to us on the Maidan at that time," said the spiritual leader of the Greek Catholics.
The Maidan has made such high moral and ethical demands that no political party is able to reach either then or now. And we just evaluate the whole post-Maidan palette in light of the criteria that the people manifested then as their natural requirements for power," said His Beatitude Sviatoslav.
He believes that the crimes committed against the Maidan have no statute of limitations. The Heaven's Hundred Heroes' families are still waiting for the truth. The Head of the UGCC hopes that the cases for crimes against the Maidan will not be closed.
We would like to remind you that in October the previous live broadcast of the Open Church program took place. The interlocutor of the UGCC Head was a journalist, TV presenter, documentary writer, writer Yuriy Makarov. You can watch the program live on the Live TV channel on YouTube.
Department of Information of the UGCC
MEDIA