Head of the UGCC took part in a live-to-air TV program on channel TVi
Friday, 31 July 2009, 13:39
His Beatitude Lubomyr took part in a live-to-air 30-minute program "Truth of Vitaliy Portnikov," which gets aired on the TVi channel. The hosts of this program alternate weekly- one week Vitaliy Portnikov hosts "Truth of Vitaliy Portnikov" and the next Roman Skrypin hosts "Truth of Roman Skrypin." On the webpage of the TV channel, the show is described in the following way: "these talk show programs differ because of the differing personalities of the hosts. The programs reflect not only the positions of the guests but also the perspectives of the hosts."
His Beatitude Lubomyr took part in a live-to-air 30-minute program "Truth of Vitaliy Portnikov," which gets aired on the TVi channel. The hosts of this program alternate weekly- one week Vitaliy Portnikov hosts "Truth of Vitaliy Portnikov" and the next Roman Skrypin hosts "Truth of Roman Skrypin." On the webpage of the TV channel, the show is described in the following way: "these talk show programs differ because of the differing personalities of the hosts. The programs reflect not only the positions of the guests but also the perspectives of the hosts." A major topic of discussion included the visit to Ukraine of the Head of Russian Orthodox Church, Patriarch Cyril. The TV channel TVi included Ukrainian on March 17, 2008. From June of last year to February 2009, general coverage of this channel grew 12 times to 50.2% and coverage in cable networks already encompasses 76.4% of cities with populations of over 50 thousand.
Information Department of the UGCC
PUBLICATIONS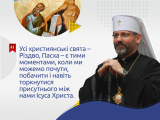 All the richness of the Christian life, our feasts, our Divine Liturgy are an opportunity to experience the events that the apostles went...
MEDIA