Head of the Ukrainian Greek-Catholic Church introduced the new Head of the Patriarchal Administration
Monday, 03 August 2009, 14:22
On July 29, 2009, workers of the Patriarchal curia met at the office of Patriarch Curia of the UGCC. During the meeting, His Beatitude Lubomyr, Head of the Ukrainian Greek-Catholic Church, introduced the new head of the Patriarchal Administration, Bishop Bohdan (Dzyurakh), who is also the Secretary of Synod of Bishops of the UGCC. Speaking to the workers of the Patriarchal Administration, His Beatitude Lubomyr said that, "the work of the curia is the work on the highest levels for the Church, state and internationally. Therefore, the workers of the curia must create a charismatic community that fulfills the tasks put forth by the Church."
On July 29, 2009, workers of the Patriarchal curia met at the office of Patriarch Curia of the UGCC. During the meeting, His Beatitude Lubomyr, Head of the Ukrainian Greek-Catholic Church, introduced the new head of the Patriarchal Administration, Bishop Bohdan (Dzyurakh), who is also the Secretary of Synod of Bishops of the UGCC. Speaking to the workers of the Patriarchal Administration, His Beatitude Lubomyr said that, "the work of the curia is the work on the highest levels for the Church, state and internationally. Therefore, the workers of the curia must create a charismatic community that fulfills the tasks put forth by the Church." Afterwards, Bishop Bohdan thanked His Beatitude for his trust, explaining that he will draw upon his experience working with the curia when he was the auxiliary bishop for the Kyivan Archeparchy. "However, - commented the Bishop, - I still have a lot to learn, so that we can more effectively work together." There was an open discussion after his speech where workers could voice their opinion how to improve work efficiency. Towards the end of the meeting, an announcement was made about the All Ukrainian Pilgrimage of military personnel to Zarvanytsya, which is scheduled to take place from the 19-20 of September, and about the pilgrimage of the workers of the penitentiary system of Ukraine to Univ, which will take place on September 26-27.
Information Department of the UGCC
PUBLICATIONS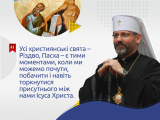 All the richness of the Christian life, our feasts, our Divine Liturgy are an opportunity to experience the events that the apostles went...
MEDIA