Head of UGCC awarded new prizewinners with an honour of Omelian Kovch
Thursday, 01 December 2016, 12:37
A war has knocked at our door one more time. A time of a great suffering and test has already started. On the contrary, it is a time when we, being here on earth, can see God. Christ says: "Blessed are the clean of heart, for they will see God".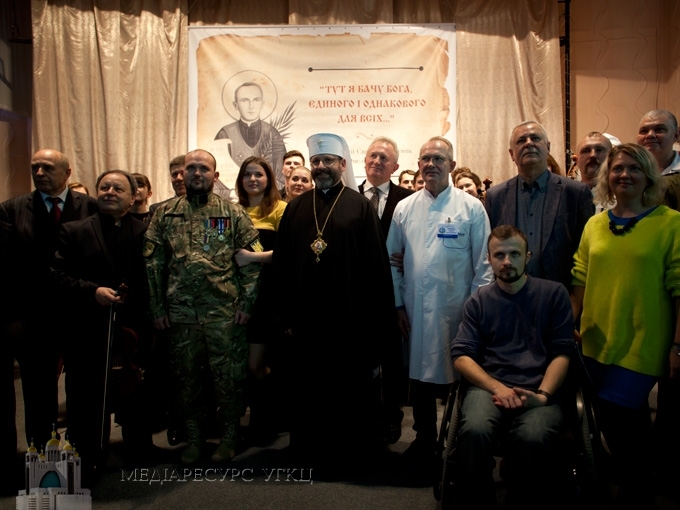 With these words Head and Father of UGCC His Beatitude Sviatoslav referred to the benefactors and volunteers, medicals and militaries, public figures on November 30, giving them an honour of a blessed martyr Omelian Kovch for their personal example of sacrifice and humanism in Dnipro regional hospital of I. Mechnikov.
In addition to this the prizewinners of this year became: International charitable foundation "Everyone can", Dnipro regional hospital of I. Mechnikov, Adam Michnik who is a Polish journalist, essayist, social and political figure, former dissident, political prisoner, Ihor Lukianets, senior officer of Armed forces of Ukraine, Volodymyr Hera, first lieutenant of Armed forces of Ukraine.
"We arrived here, to this famous hospital, as this place is very atmospheric, a place where you serve and save lives of our heroes, you see blood, tears and sufferings. We are among "witnesses of God", Head of UGCC said. – Values which martyr Omelian Kovch as a person who reached a special rate of holiness is honoured for – are not kept in past. They are implemented even today…"
According to his words, there are such people and communities that, probably, do not even know about a measure of holiness, and live spontaneously by these regulations, speaking different languages, belonging to different Churches and religions: "The Spirit of God is helping us during this rough time to raise above this conditionality and see that God is one for everyone. For we were created by His own image".
So, Head of UGCC and members of the Committee on commemorating blessed martyr Omelian Kovch honoured those people who are especially close to these principles and regulations which the adhere to in their lives.
As the preacher said, within Christian meaning, holiness of a human might have different levels. One of the highest levels of holiness, which is defined similarly in any religion and confession is a capability of a human to see God. Moses is a bright example of such "witness" because he was talking to God in private while receiving a Law at Sinai.
"Today we want to give our prizewinners this award of a priest of our Church, who we can easily call a "witness of God". He was an ordinary Greek Catholic priest in Peremyshliany. He had many children and understood well what does it take to grow up good people. But when a war started, God established before him new pastoral duties. Having seen his neighbours and friends being put to death during Holocaust, he started doing everything to save lives of sons and daughters of Jew's nation. For this he was murdered in concentration camp in Majdanek", told His Beatitude Sviatoslav, adding that father Omelian is an example to be followed. For this reason, father Omelian Kovch is proclaimed as a patron of priests, so they would be similar to him.
UGCC Department of Information
Reference
Blessed Omelian Kovch – Church-martyr, righteous of Ukraine. Priest of Ukrainian Greek Catholic Church, who had spent all his life ministering to a neighbour. Being a chaplain in Ukrainian Galician army had always stayed with soldiers at the frontline, supporting them morally and physically. At the parishes where he was serving, he immediately he got down to the organization of public and cultural life of parishioners. Held pilgrimages and Eucharist's councils even during a soviet occupation. He was active in socially political life of Ukrainians, for what he was persecuted by Polish as well as soviet and Nazi governments. During one of his imprisonment he wrote a book "Why our people escape us". During the Nazi occupation he was helping Jews, saved more than ten people, in particular a famous Jewish rabbi Aron Rachiah. He was being questioned at Lontsky prison in Lviv, where he was forced to admit his guilt and refuse further baptizing of Jews as well as deny protests made against Nazi actions. He was imprisoned for his acts and sent to the concentration camp in Majdanek, where he died and was burnt in crematorium.
A committee on commemoration blessed martyr Omelian Kovch was found in 2010. Cardinal Lubomyr Husar is its honorable head. The Committee works under the patronage of Head of Ukrainian Greek Catholic Church His Beatitude Sviatoslav.
The efforts of the Committee are focused on implementing ideas of blessed martyr Omelian Kovch for the sake of international, inter-confessional and interreligious dialogue, cherishing tolerance and mutual understanding within society, popularization of social effective and philanthropical activity.
The Committee cares for recovering memory of father Omelian Kovch and spreading knowledge and facts about his prominent life, death of martyr and great deed of sacrifice and love for people.
In 2010 the Committee established an Honour of Blessed Martyr Omelian Kovch, which is given annually for a significant contribution to the ecumenical and cultural dialogue, interreligious and international understanding and for the special life example of humanism and sacrifice.
Prizewinners of this year:
International charitable foundation "Everyone can" which started its activity as a volunteer community of adherents in 2013. In September, 2014 it was formed as an international charitable foundation. Its mission to develop volunteer work and philanthropy, coordinating and providing help for those who are in an extreme need.
International charitable foundation "Everyone can" received a title of a leader in nomination "Offering services to internally displaced persons" in National list of benefactors.
Dnipro regional hospital of I. Mechnikov – one of the oldest multifunctional clinical medical institutions in Ukraine, center of specialized surgery assistance. With the beginning of war more than 1000 wounded soldiers were brought to this hospital. Doctors made more than 900 operations. 99 per cents of severely wounded soldiers have been saved.
Adam Michnik – Polish public figure, journalist, editor, former dissident, political prisoner in PPR times. One of the most truthful inspirers of "Solidarity". In 2006 he was one of the most influential world journalist. An honorary doctor of University of Minnesota and University of Michigan. An honorary professor of Kyiv-Mohyla Academy. A prizewinner of "For Liberty" of French PEN club, International prize "Erasmus" (Netherlands). A knight of Legion of Honour (France), etc. In 2007 he was awarded with a prize of King Yaroslav the Great of third degree.
Ihor Lukianets - senior officer of Armed forces of Ukraine. During a peaceful time, he was living in Novograd-Volynskiy. Economist-financier by training. He has been in ATO zone since April, 2014. He was dangerously wounded, losing a lot of blood. After 25 operations performed on him and fifty stitches put in, he has been still pleased with life, appreciating every moment. On 8th of September, 2014 for a personal courage and heroism displayed in defending state sovereignty and territorial integrity of Ukraine, bearing true faith to oath of allegiance during Russian-Ukrainian war, he was awarded with a prize "For courage" of III degree. Currently Ihor is heading regional organization All-Ukrainian association of ATO veterans.
Volodymyr Hera - first lieutenant of Armed forces of Ukraine. Born in Chernyliava village, Yavoriv district, Lviv region. Graduated from National Army Academy of Petro Sahaidachny getting diploma with honors.
September 1, 2014 Volodymyr covered a withdrawal of almost 400 of his comrades, who were captured in an enclosing of Russian soldiers near Lutyhin. Taking a position in the suburbs of Lutyhinovo in metallurgical factory. Volodymyr was seriously wounded. At hospital in Kharkiv he was operated twice to save his arm. His back was injured badly as well. Because of spinal cord injury he cannot move.
For money collected by volunteers he passed a course of treatment in Germany and USA.
Septemner 23, 2014 he was awarded with a non-governmental honour – medal "For defending Motherland" and in March, 2015 he got a prize of Bohdan Khmelnytskiy of III degree.
PUBLICATIONS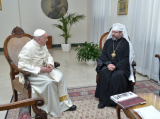 3 July at 10:00 AM, at Casa Santa Marta in the Vatican, Pope Francis met with His Beatitude Sviatoslav. The meeting was held at the request of the...
MEDIA