Head of UGCC congratulated Patriarch Filaret on his 89th anniversary
Friday, 26 January 2018, 23:06
Head and father of UGCC His Beatitude Sviatoslav sent a greeting letter to His Holiness Filaret, Patriarch the Patriarch of Kiev and All Rus' – Ukraine, the Head of the Ukrainian Orthodox Church of the Kyiv Patriarchate on occasion of his 89th anniversary.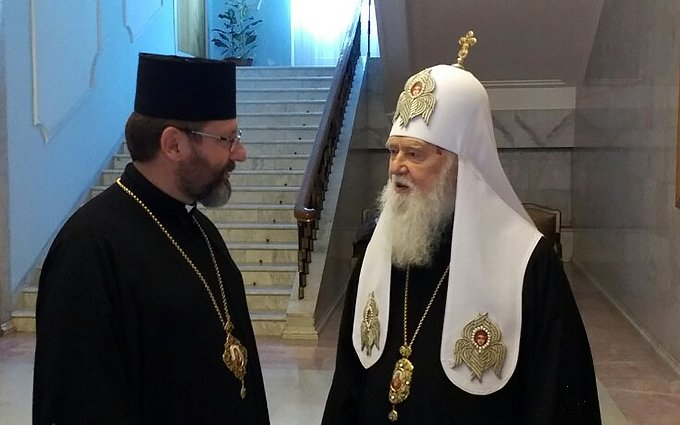 "Today we are congratulating You as a shepherd, who, with all his life, despite various challenges and obstacles emerging from this world, still comprehends the truth. The power of Your faith is rooted in a firm consciousness that God revealed Himself in Jordan – is with You, guides You and Your Church through the ways of "truth and justice", wrote His Beatitude Sviatoslav from him personally and on behalf of whole Synod of UGCC.
"Owing to Your preaching the Word of God, the heavens open to people, with the same words: "You are my beloved son, My grace rests on you". With Your actions you constantly testify this "heaven's grace" that helps us to become winners in a war, which lays on our land as a bleeding wound. If God guides us who can be against us? This affirmation helps us to hold on a right position in the sphere of modern challenges and with an active participation in social and cultural life to support Ukrainian people on the way on forming free and independent country, where all people of different religious views are treated with a due respect", is said in a greeting letter.
According to Head of UGCC, openness of Patriarch Filaret to the dialogue in the context of UCC and RO activity and Christian Churches Committee made it possible to implement many important appeals that laid as a foundation for a future society with deep Christian roots.
"Please, accept my sincere greetings and wishes of rich God's blessings with an assistance of the Holy Spirit in all Your new beginnings for the glory of God and goodness for the Ukrainian people. May the Blessed Virgin Mary be Your Patroness in all deeds accomplished in the name of Her Son, Our Lord Jesus Christ", wished His Beatitude Sviatoslav.
The UGCC Department for Information
PUBLICATIONS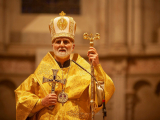 TUESDAY, JUNE 4 DURING HIERARCHIAL DIVINE LITURGY AT THE UKRAINIAN CATHOLIC CATHEDRAL IN PHILADELPHIA OVER 50 BISHOPS, WILL PARTICIPATE...
MEDIA