Head of UGCC: "I don't consider everyone from the occupied territory the enemies of Ukraine"
Thursday, 02 February 2017, 11:14
I don't share an opinion of those who consider all people being trapped in an occupied territory the enemies of Ukraine, though it's definitely - there are some who took weapon and appeared to be quislings. Their guilt as well as their further destiny will be executed by court, but majority of these people belong to mere citizens who became victims of criminals.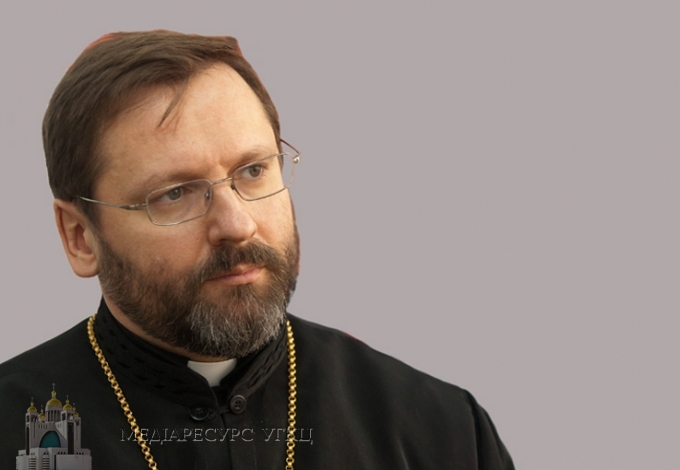 That is how Head and Father of UGCC His Beatitude Sviatoslav stated his position giving an interview to RISU.
According to his words, the problem of relating all people from the occupied territory to the enemies resembles him Stalin's propaganda, which recognized everyone who remained at a territory occupied by Germans as enemies, or who was captivated during the World War II. "We must not fight against these mere people, who seek for defense and spiritual security in our priests' service, but we must fight for them! Those our priests who, being good shepherds did not leave their sheep out there in Donetsk and Lugansk, deserve to be respected and supported in all kind of ways".
He mentioned that, unfortunately, exarch of Donetsk UGCC bishop Stepan Meniok got into the "fusilladed list" and meanwhile cannot cross a border to visit Greek Catholic communities. Thus, Head of UGCC expressed his gratitude to Archbishop Claudio Gugerotti, Apostolic nuncio to Ukraine for taking those pastoral responsibilities on himself, recently visiting our people. "Here it's important to specify that he went to those territories, executing a will of Pope Francis and testified their belonging to Ukraine, since he is a Pope's messenger to Ukraine precisely. Archbishop Gugerotti truly helped and helps us so far in caring for our priests and believers, who remained at the occupied territories, where neither me nor their bishop cannot reach out".
The UGCC Department for Information
PUBLICATIONS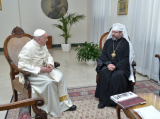 3 July at 10:00 AM, at Casa Santa Marta in the Vatican, Pope Francis met with His Beatitude Sviatoslav. The meeting was held at the request of the...
MEDIA