Head of UGCC on Day of Pentecost: "His Beatitude Lubomyr is a gift of Holy Spirit to Ukrainian people"
Monday, 05 June 2017, 10:21
Lubomyr is passing away and, yet, being closer and more reachable to all of us. Tomorrow we will put his relics into the crypt of this Cathedral, and this crypt will be open 24 hours. Each of us in the moments of uncertainty and need will have an opportunity to come and pray together with Lubomyr. Today, on the Pentecost Day, let us promise ourselves to not leave Lubomyr in his crypt alone.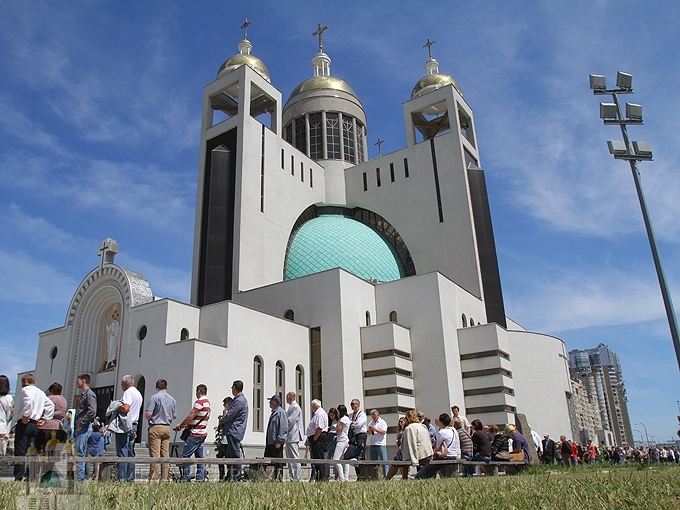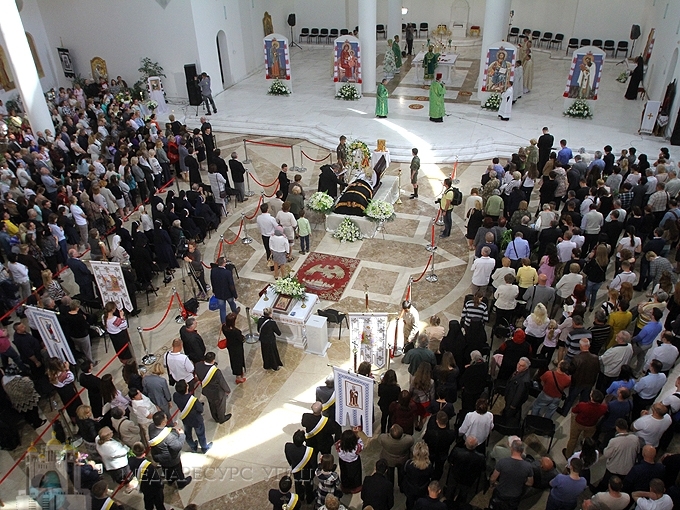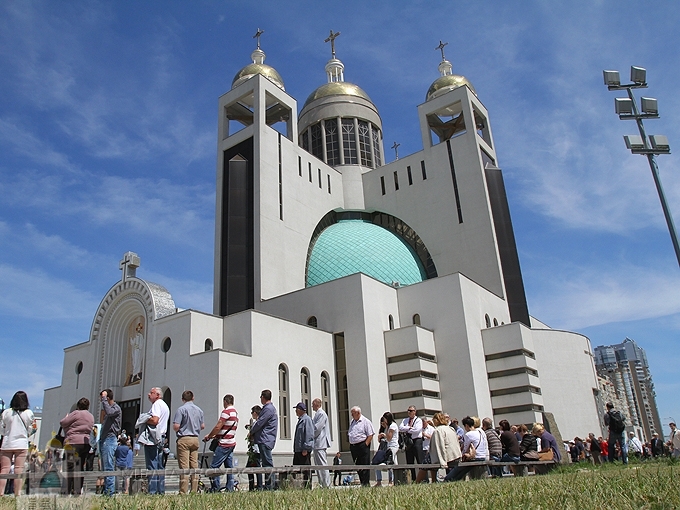 Head and Father of Ukrainian Greek Catholic Church His Beatitude Sviatoslav said during his homily to the faithful on the Day of Pentecost in Patriarchal Cathedral of the Resurrection of Christ in solemn memory of His Beatitude Lubomyr.
The preacher noted that today the whole Catholic Church of both, Eastern and Western rites, by God's provision celebrate together one of the biggest and most important feasts of the liturgical year – Pentecost, the Descent of the Holy Spirit, Feast of the Holy Trinity – feast which can be called as a "gift from God".
"The Holy Spirit, - His Beatitude Sviatoslav explained, - is a special mysterious God's person that teaches us and makes us able to love from the inside, without any force but with the power of the inner love. Today we are praising Him as a Holy Spirit and Giver of holiness. He grants a human what He is himself. Today we are glorifying Him as a Spirit, which is the Spirit of life and Giver of life which revives all God's creatures. Everything what breathes and glorifies Lord is touched with a power and act of the Holy Spirit. He is a Spirit of love of God and Bestower of love which instructs us to love in the way God loves us. He is a Spirit of wisdom and Bestower of this wisdom. He is a Spirit which heals a human. He is a Spirit which grants us hope. For this reason, Church is being decorated with green colors – the color and light of hope which is emitted by the power and act of the Holy Spirit which rests within a human as in its temple. On the Pentecost Day the Church of Christ and we as well celebrate our birthday because today it is a birthday of the Holy Church".
Head of Church marked that for us, for the Ukrainian Church, particularly for those who gathered in this Patriarchal Cathedral of the Resurrection of Christ, this feast of Holy Trinity is special, because Patriarch Lubomyr is resting among us.
"And these days, - His Beatitude Svaitoslav said, - we are seeing him off to his last journey. However, by force of unusual circumstances, this feast of the Holy Trinity and this burial way, what we are passing with Lubomyr, is being changed into the moment of hope".
According to the preacher, precisely on the feast of Holy Trinity in 1996, Lubomyr was appointed to the Archiepiscopal Exarchs of Kyiv. He was being installed in our only cathedral in Kyiv for that days on Askold's Grave. Then, he had a title of exarch of Kyiv-Vyshhorod. And today, during the same feast, he is passing from his earthly throne, throne of bishop, respected among people, to the heavenly throne, where he is being accepted by Heavenly Father and glorified among angels.
"His Beatitude Lubomyr is a gift of Pentecost, gift of the Holy Ghost to the Ukrainian people. It is hard to realize and overestimate the gift of Pentecost in the person of Lubomyr and his mission, and everything what he is leaving for us", Head of Church assumes.
The Major Archbishop emphasized that the name of His Beatitude Lubomyr has two main gifts of the Holy Ghost – love and peace. "All of us strive for love and all of us need peace. But what we heard in today's Gospel we can really see and touch in the person of His Beatitude Lubomyr", the Head assures.
The righteous metropolitan Andrey Sheptytsky wrote one of his finest works about Church as a gift of Pentecost. And today, the preacher assumes, we have this gift visibly and personally presented in the face of His Beatitude Lubomyr. This gift exceeds different confessional and rite barriers. "Today, on the Pentecost Day, bishops of different rites are praying and celebrating here together with His Beatitude Lubomyr. Among us are present bishop Stanislav Shyrokoradiuk, bishop of Kharkiv and Zaporizhya diocese of Latin rite and bishop Markos, Head of Ukrainian Eparchy of Armenian Apostolic Church. For the gift of Holy Spirit has neither confessional nor ethnical barriers", the Archbishop added.
Head of Church reminded: His Beatitude Lubomyr being still an archimandrite of Studite monks, on his return to Ukraine, first of all, set up a prayer club. "A Holy Spirit, abiding in him, taught Ukrainians a real prayer. Let us adhere together with him to this testament he left to us. Let us proceed with praying and see that all those gifts of the Holy Spirit we hear about today, which we are praying about today, reside in our hearts", His Beatitude Sviatoslav asked.
The Archbishop thanked the Lord, Father, the Son for the gift of Holy Spirit, asking for glorifying a faithful God's servant Lubomyr here on earth and make him one more source of the grace of the Holy Spirit to us, who remain here.
"Your Beatitude Lubomyr, yesterday we prayed to you being all-national worshippers for peace in Ukraine, worshipper not on the earth, but in heaven. Teach us to love peace and rest in God's peace", Head of Church wished.
The UGCC Department for Information
PUBLICATIONS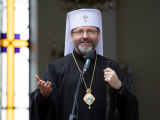 When we see people's transgressions, iniquities and even crimes we, first of all, have to undertake an examination of conscience, so not to do...
MEDIA