Health professionals conducted the pilgrimage to Zarvanytsia
Saturday, 06 October 2012, 18:20
On the 29th of September, approximately 100 medical workers came from Khmelnytskyi region to Zarvanytsia. The pilgrimage was conducted on the initiative of the medical chaplain Fr. Yaroslav Yefremov, who, for some years already, combines the pastoral ministry with the spiritual care after the medical professionals and patients.
While staying in Zarvanytsia, pilgrims had the meeting with the Head of the UGCC Commission on Pastoral Health Care - Fr. Dr. Andriy Lohin and with the Head of the UGCC on Pastoral Health Care of the of Ternopil-Zboriv Archeparchy of the UGCC- Fr. Vasyl Slipchuk. Fathers conducted spiritual science for health professionals, taking into consideration some particular features of serving the patients, taking biblical examples for the basis.
Commission of the UGCC on Pastoral Health Care
PUBLICATIONS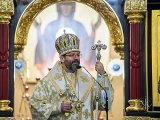 Head of the Ukrainian Greek Catholic Church brings multifaceted experience to project of evangelization.
MEDIA