His Beatitude Lubomyr had one trait – be a man of God, bishop Josyf Milyan
Sunday, 03 June 2018, 20:29
His Beatitude Lubomyr felt responsibility for saying truth to his people, encouraging them to spread Christ's outreach and Laws of God in this world!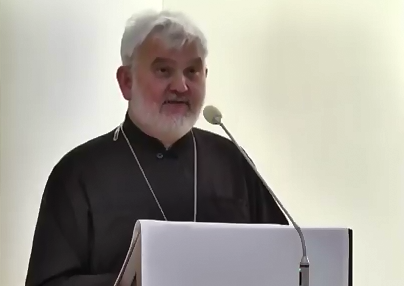 This thought was delivered by bishop Josyf Milyan, Bishop-auxiliary of Kyiv Archeparchy during Vespers on Thursday, May 3, marking the anniversary of the departure into eternity of His Beatitude Lubomyr. After the prayer bishop addressed to present with a word "Patriarch Lubomyr – a man of God".
"A crucial thing for a man who believes in the name of the Most High in this world – to accomplish His holy will. It seems to be an easy task – to follow God in His Commandments, trace His paths, His words. Yet, it is also a hard task, as He says to us: "You are the light of the world… let your light shine before others, that they may see your good deeds and glorify your Father in heaven", started his homily bishop Josyf.
"Can't these words be referred to the pillar and beacon of our Church, who enlightens the crypt of this cathedral – His Beatitude Lubomyr, whose anniversary of death we mark today", added the preacher.
He assumes that His Beatitude Lubomyr could always accept everyone worthily, with dignity. "How can serve you?" – was his usual question.
"Probably, his posture stands before our eyes, so we can learn how to live on without him. Apart from his deep humanistic manifestations, he also had one more peculiarity – to be a man of God, another Isaiah, be restless when it came to God's justice as well as accomplishing His will by all of us", said Bishop-auxiliary of Kyiv archeparchy.
Bishop Josyf thinks that His Beatitude Lubomyr with his life showed us what it means to be a human. Since he was the light, demonstrated modesty, prayer and humanity. Even more, a special charm of his was an ability to joke at himself.
The UGCC Department for Information
PUBLICATIONS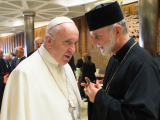 An unprecedented event took place in Rome on July 5-6. Desiring to demonstrate support for the Ukrainian Greek-Catholic Church at a time of...
MEDIA