His Beatitude Lubomyr (Husar) encouraged clergy and members of religious orders to collaborate with laity in nurturing vocations
Tuesday, 23 October 2012, 08:46
The scholarly conference "Vocations to a religious life in UGCC today: reality and perspectives" began at the Lviv Spiritual Seminary of the Holy Spirit on October 19, 2012. It was initiated by The Patriarchal Commission on Vocations headed by Rev. Petro Baran, CSSR. At the conference His Beatitude Lubomyr (Husar) urged the audience to assist people in recognizing a calling to a religious life, to develop and popularize it.
"It is necessary to create mechanisms in monastic orders and communities that will help in nurturing and strengthen vocations.  He related the experience of USA that, although in the 1960s-70s there was a great number of vocations, they developed a program to nurture vocations. "At that time in every U.S. eparchy there was a person responsible for vocations to the priesthood and monastic life.  It is important to note something specific to Americans: they had and continue to have -- a well organized special lay organization that helps to find vocations," related His Beatitude Lubomyr.  "It is appropriate that in Ukraine we create a similar organization that would employ lay people who acknowledge the significance of religious vocations for the Church and for the people." His Beatitude Lubomyr believes that it is important to consider this, since monastic life is not something hidden, but a vital part of general church life.  "If we can find lay people who are ready to assist us in searching out and nurturing vocations, I think that it will prove to be of great benefit to UGCC," emphasized the speaker. Besides the presentation of the former UGCC Head, the presentation of Archbishop Joseph William Tobin, C.Ss.R., Secretary of the Vatican Congregation for Institutes of Consecrated Life and Societies of Apostolic Life, was of particular significance. Since he could not attend the conference, his speech on an ideal religious life and its realization in monastic orders was read at the beginning of the conference. In his presentation the author underlines the fact that for a better understanding of contemporary religious life, it is important to realize the changes which have occurred in the last 40 years.  He believes that the Second Vatican Council inaugurated these changes, which then generated a renovation in religious orders and communities. The Archbishop emphasizes that the most important event for religious life after the Second Vatican Council was the Synod of Bishops on religious life which took place in 1994 and resulted in the apostolic precept "Religious Life." "This apostolic precept, in describing religious life, emphasizes the aspect of   'consecration' since religious life is not one of being employed but of  belong to Someone," highlighted the presentation. Finally, Archbishop Joseph stated that a religious life undergoes trials: through very severe indicators of life and death. "We believe that in all the trials and questioning, we recognize the Word of God which if it is gathered from wounds and doubts, in difficulties and uncertainties, will lead us to new fervency, and spur a new creativity." Research on motivations to religious life in UGCC was presented by Sister Khrystofora Bushtyn, head of UGCC Commission on Matters of Primary Education, and Mar'yana Mykolaychuk, a candidate in psychology.    The participants of the study included  37 candidates for religious life: 54% men, 46% women.  This research made it possible to define the basic elements of the psychological readiness to choose religious life (a satisfactory mental health status and personal maturity, the presence of stimulating motives and such) and criteria of personality maturity (responsibility, decency, depth of experience, life philosophy, autonomy, communicability, self-perception). During the day there were also presentations by  Rev. Volodymyr Hruts, CSSR, and Sr.Vasyliya Strutynska, OSBM, about difficulties which meet contemporary religious people, as well as Rev. Ionikiy Chverchuk, OSBM, on the dynamics of the development of vocations in the last 20 years. The conference continued in group discussions and ended with Evening Vespers. Bishop Bohdan (Dziurakh), Administrator of the UGCC Patriarchal Curia, attended the conference. The work of the scholarly conference will continue on October 20, 2012.  Planned presentations include: Rev. Orest-Dmytro Vilchynskyi and Sr. Valentyna Riabushko, CSM St. Vincent, on the spiritual state of society as the background of forming vocations, as well as Rev. Andriy Platosha , SDB, Rev. Ivan Mazurkevych, SDB, Rev. Andriy Bodnar, SDB,  Rev. Hryhoriy Shved , SDB,  on             the perspectives of pastoral work regarding vocations. UGCC Department of information
PUBLICATIONS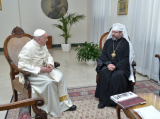 3 July at 10:00 AM, at Casa Santa Marta in the Vatican, Pope Francis met with His Beatitude Sviatoslav. The meeting was held at the request of the...
MEDIA