His Beatitude Lubomyr (Husar) stated: "Handouts are the remnant of the Soviet times"
Saturday, 20 October 2012, 11:32
The today's election campaign demonstrates the remnants of the Soviet times, of which Ukrainians still haven't managed to get rid of. Such an opinion was expressed by Lubomyr (Husar), who is the Archbishop-Emeritus of the Ukrainian Greek Catholic Church, on the 17th of October, in an interview with the "5th channel".
In his opinion, building roads, ensuring people with a normal quality of life is an obligation as well as the calling of all the officials and politicians. And distributing, instead, such gifts as buckwheat, sugar, bicycles does not belong to their duties. "And it is evident that they do these things not out of a sense of responsibility, but to establish themselves a pass to the Council," - says the spiritual leader of the Ukrainian people.
"People were told that the party would take care of everything, and will provide them with everything. And people learned how to get something from someone, how to fold their hands and wait for the "gifts" and not to make attempts and achieve everything on their own. This is the remnant of Soviet times ", - he believes.
And for as long as we do not get rid of this remnant of the past, the Archbishop is convinced, then "there is no need to talk about some socio-political culture". Citizens should learn that good things should be received as a response for good intentions.
According to His Beatitude Beatitude Lubomyr, while choosing the deputy, we should have a closer look at how professional this person is, because if someone is "a sportsman or a singer", that is, people who have no experience in political affairs, why should we make this choice "- rhetorically asks the former Head of the Church.
Moreover, while choosing a deputy, we should question him "face-to-face about the ideology of his party, a biography."
"We, the ones who choose, we have to put the candidate in the circumstances in which he must honestly admit that he did something improperly: participated in bad polls, used some tricks or did that for someone, what was the reason for doing that" - suggests His Beatitude Lubomyr.
The Archbishop does not undertake predicting what will happen after these elections, but in any case, he believes that Ukraine will not cease its existence. "No matter what happens, Ukraine will remain. We have experienced so many different tragedies that we will survive the fact that those elections will be held in an unjust and in an unfair way. But we should try hard to make be conducted properly, so that people know who they vote for and in whom they can trust", - thinks the spiritual leader.
Watch the interview: ugcc.tv/ua/media/54764.html
UGCC Department of Information
PUBLICATIONS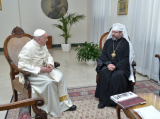 3 July at 10:00 AM, at Casa Santa Marta in the Vatican, Pope Francis met with His Beatitude Sviatoslav. The meeting was held at the request of the...
MEDIA