His Beatitude Lubomyr (Husar): Ukrainian society is not politicized enough
Tuesday, 25 December 2012, 11:52
"I do not consider our society politicized. Corrupt – YES! Unfortunately corruption and bribery have taken a hold over our society; we can see this in many ways. Corruption is so widespread that it has become a way of life for ua, but this is not politics." His Beatitude Archbishop Emeritus Lubomyr (Husar) stated this conviction in an interview with the newspaper Fakty ta komentari [Facts and Comments]. He insists that Ukrainian society, including the administration, is "not politicized enough."
"If our authorities, all the branches of government were  truly politicized, were politically astute and possessed culture – they would look completely different.  However, these people and Parliament do not think about the future, except for their own. We have no culture of politics, a political culture:  we only have corruption, the hoarding of income.  We saw this very well during the elections.  And probably it will continue to remain so because I personally do not detect in people a real desire to change something," noted His Beatitude Lubomyr.
However the Archbishop believes that we do not need the kind of politics that  rules Ukraine now…
He also compared administration and money to "a real narcotic."
"And even worse.  There is an old Roman saying: "Authority corrupts, and absolute authority corrupts absolutely."  You know there are people who yearn money and bet on horses or play cards.  These people imagine that they will definitely become rich but most often they end up losing everything.   Authority is the same.  Those who achieve it usually regard that power gives them the right to supposedly fix the world, people, to improve them.  But actually they want the people to be as the authorities want them to be.  Therein lies the tragedy of so-called love of power," summarizes the spiritual leader of Ukrainians.
"Who should today set the tone in Ukraine?" he asks, "And the tone for what?  Who will tell one what is important in life.  Money?  Power?  Maybe for some, for many people it is so.  Only I in reading the Scriptures have different beautiful examples.  How much of this wealth will you take with you?  In the end, why do you need all of this?   A tone should be set to understand values,"  the spiritual  leader turns in the interview to the reader.
UGCC Department of Information Source: newspaper Facts and Comments
PUBLICATIONS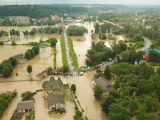 Your Graces and Excellencies, Very Reverend and Reverend Fathers, Venerable Brothers and Sisters in monastic and religious...
MEDIA