His Beatitude Sviatoslav began a visit to UGCC New Westminster Eparchy in Canada
Monday, 04 September 2012, 23:03
UGCC Head arrived in Canada for the UGCC Synod of Bishops to be held on September 9-15 in Winnipeg. He was accompanied by His Excellency Ihor (Vozniak), Archbishop and Metropolitan of Lviv.
On Wednesday, August 29, 2012, at the Vancouver Airport in British Columbia (Canada), the guests were greeted by a delegation of the New Westminster Eparchy, headed by Bishop Ken  (Novakivsky).  On the next day His Beatitude Sviatoslav and Bishop Ihor visited the Monastery of the Sister Servants of Mary Immaculate in New Westminster.
Prior to the beginning of the Synod, UGCC Primate will also visit the Saskatoon Eparchy, headed by Bishop Bryan Bayda  Saskatoon Eparch.
As reported earlier, during May 31- June 10 this year, His Beatitude Sviatoslav had visited the faithful of UGCC Edmonton Eparchy.
UGCC Department of Information
His Beatitude Sviatoslav about the Synod in Canada.
PUBLICATIONS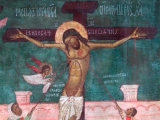 "Open to me the doors of repentance, O Giver of Life. As we worship in Your temple this morning, teach us how to purify the temple of our...
MEDIA