His Beatitude Sviatoslav Consecrates the Newly rebuilt Temple of Saint Elias in Brampton Ontario
Thursday, 06 October 2016, 11:05
Two and a half years after the original church was completely destroyed by fire, parishioners and friends of Saint Elias the Prophet Ukrainian Greek Catholic Church gathered on October 1, 2016, to bless the new temple.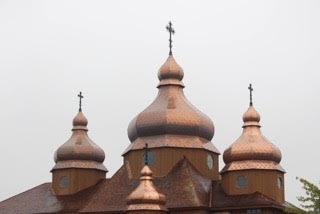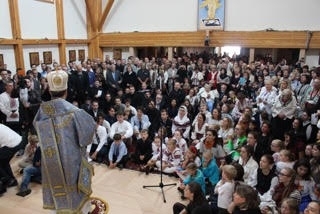 At the time of the April 2014 fire, the parish community received an outpouring of support from local faith groups, neighbours in Brampton and Georgetown, and people all over the world who knew the unique character of this parish. "The encouragement we received from near and far, from dear friends and complete strangers, has propelled us to this joyous day," said Father Roman Galadza, pastor of St. Elias Parish. "I look forward to showing all of them what we have done with their support." His Beatitude Sviatoslav, Patriarch of Kyiv and Halych, presided over the service of the Great Consecration of a Temple. His travel from Ukraine for the occasion, underscored the important place this Brampton, Ontario, parish has among the Church's 5 million members worldwide. Serving at the Altar were Mitrophoric Archpriest Roman Galadza, Mitrophoric Archpriest Martin Canavan, Archpriest Peter Galadza, Heiromonk Theodosy (Kraychuk), Father Michael Winn, Heiromonk Richard (Soo) S.J. Protodeacon David Kennedy, Protodeacon Nazar Yaruniv, Deacon Cyril Pinchak S.J. and Deacon Mathew Dunch S.J. Over 60 singers, mostly ages 7-21, prepared extensively for this day. They memorized psalms and irmoi and learned specific pieces for this the rite of consecration of a church. They also received catechesis on the significance of the service and rituals. The faithful also participated in the singing as is the norm here at Saint Elias. All were well prepared by Reader Ilya Galadza. "This community is a shining example of what it means to be a vibrant parish," said Patriarch Sviatoslav. "Two years ago, over the ashes of the newly burnt church, I was singing Paschal Hymns. I promised to return for this event. It is a blessing to be here with the community." In his sermon His Beatitude offered these words: Today is an outstanding historical day in the life of this very unique community - Saint Elias Church in Brampton. More than 2 years ago, it was May of 2014, I came to this same place. I saw a community which was not mourning but rejoicing singing hymns of the resurrection over the ashes of the newly burnt church. Seeing you two and half years ago I was impressed. I have to say the same as the Ambassadors of St Vladimir conveyed to him after they visited St. Sophia's in Constantinople. Praying with you here (well) I didn't know if I was on earth or in the heavens- but I was on the ashes of the church. I didn't know where I was in that moment but I'm sure that God dwells with those people. With awe and fear of God in a moment of tragedy but even I would say Christian hope I gave a promise to you to come and consecrate the church when it is re-built. …I have to say that probably right now we have the same feeling as the Prophet Elias after he was taken into the heavens in a special chariot. From the ashes of the earthly challenges and tragedies arises a new hope and life of a Christian Community. …Because you are the living temple of the invisible and powerful God, this visible temple is reconstructed and consecrated today. May God be praised in His Saints. …May this community be a hope for Canada as Christianity is the hope for new Ukraine. The church, built in the "Boyko" style of western Ukraine, is made of stone and wood, with five copper-shingled domes. The original church was consecrated in October 1995. Saint Elias Parish was founded in 1976, and this weekend's festivities will also serve to mark its 40th anniversary.
Department of Information UGCC
PUBLICATIONS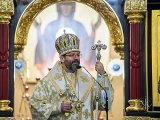 Head of the Ukrainian Greek Catholic Church brings multifaceted experience to project of evangelization.
MEDIA