His Beatitude Sviatoslav greeted Poroshenko with the national choice for the President of Ukraine
Saturday, 31 May 2014, 10:47
The Father and the Head of the Ukrainian Greek Catholic Church, His Beatitude Sviatoslav greeted Poroshenko with the national choice for the President of Ukraine.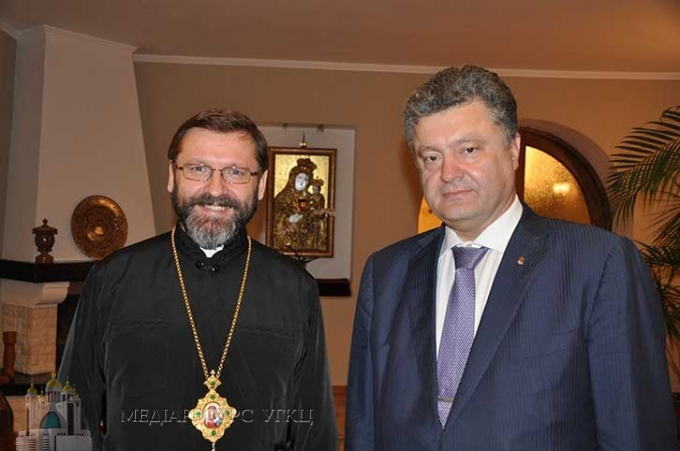 "Today we have to welcome conciliarly the winner of the presidential race, Petro Poroshenko with a national choice, with that confidence which the Ukrainian people expressed him, with the gift of great responsibility laid upon him by the Lord God", - said the Head of the church during a sermon on Ascension Day of the Christ in the Patriarchal Cathedral of the Resurrection.
His Beatitude Sviatoslav also congratulated "all the Ukrainian people with this event, which undoubtedly will be another step in the salvation of our united state - one more step to have peace and harmony in our nation".
The Archbishop noted the symbolism in the fact that at Easter time before Ascension, the stage of choosing a new president of our country has been completed.
The Head of the Church said to all and sundry that choosing the President, we Christians "must not become observers, as one person will carry out his task". "We don't have the right to lay the preservation and development of our country just over one person. We cannot be the only judges of those whom we have entrusted certain governments in our country. We need to feel our co involvement, co responsibility for the fate of our people and our country" - accented the Preacher.
His Beaitude Sviatoslav also remembered all those who gave their lives for the freedom and independence of the Ukrainian people. "For our soldiers killed in eastern Ukraine, for those who gave their lives in the Heavenly Hundred at Maidan, we ask the Lord to receive them together with Christ in heavenly glory" - said the Head of the Church.
According to him, today we have to express condolences and pray for the loved ones of those who perished. "For the Lord God healed them mentally and physically", - Head of the Church wished.
UGCC Department of Information
MEDIA