His Beatitude Sviatoslav greeted the faithful on Christmas: May the Savior bless every family, wipe away every tear
Wednesday, 06 January 2021, 20:27
From the heart of our Mother Church – from the golden-domed Kyiv, from the Patriarchal Cathedral of the Resurrection of Christ, Father and Head of the Ukrainian Greek Catholic Church His Beatitude Sviatoslav in a special video address greeted the faithful and people of good will on the occasion of Christmas.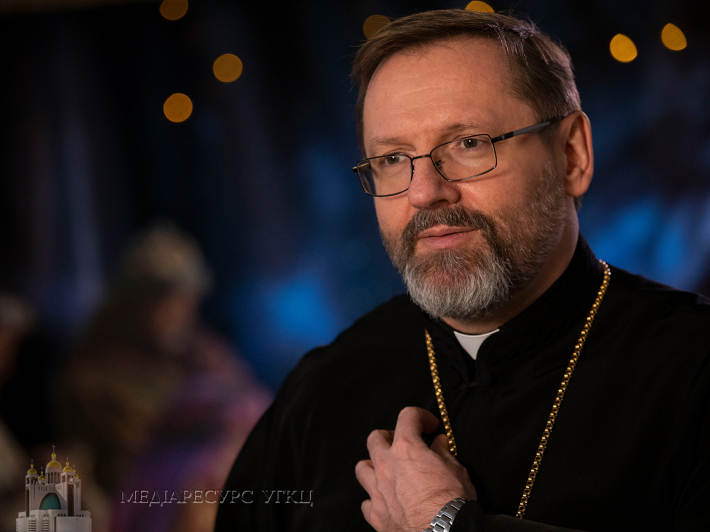 "I am sending you the good news, - said the Primate of the UGCC, - which the angel from heaven announces to the shepherds: today the Savior has been born, and heaven and earth are filled with light. Today, the whole human race is overjoyed that the Savior is born in Bethlehem, in a manger in the hay. This Christmas, the Lord enters the history of man, each of us, in these new circumstances that we are experiencing today, wherever we are on the globe."
Today the Church sings "God is with us! Understand, all you nations, and submit yourselves, for God is with us!"
"These words of the prophet Isaiah give us great hope that every human sorrow is overcome by the power of God's love. Every human fear is illuminated by the tenderness of the newborn Divine Child. Today the angel says to all of us: Do not be afraid! While standing before the Lord's Nativity Scene, let fear and sorrow disappear from our hearts today," His Beatitude urged.
The Head of the Church wishes everyone a Merry Christmas. "I want to visit your homes today," the spiritual leader said cheerfully, "to glorify our Savior with you with our the ancestral carols. I cordially greet those who celebrate at home and those who are abroad on the holiday. Greetings to those who are in Ukraine and those who are in the settlements; to those who celebrate it at the front or in prison, or perhaps in a hospital bed. But He came to all of us today to give His blessing, to lift us up, to fill us with vitality, joy, and optimism."
May the Lord, born in Bethlehem, wishes the Primate of the UGCC, be our light and our leading star in the coming years of our lives. May the Savior bless each of our families, wipe away every tear from our eyes, and may sorrow turn to joy.
"I wish you all a Merry Christmas," His Beatitude Sviatoslav wished, "a tasty kutia, and cheerful loud koliada!" I wish you all a Happy New Year, may it be better than last year!"
Christ is born! Glorify Him!
The UGCC Department for Information
PUBLICATIONS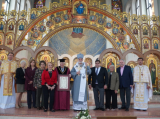 Archbishop Borys Gudziak of Philadelphia, President of UCU, conferred the award of honorary Doctor Honoris Causa of the Ukrainian Catholic...
MEDIA