His Beatitude Sviatoslav in Toronto: "Touching the wounds of wounded soldiers, we touch the wounds of Christ"
Tuesday, 04 October 2016, 11:08
Within the limits of a pastoral visit to Toronto Eparchy on the 30th of September, 2016, Father and Head of Ukrainian Greek Catholic Church His Beatitude Sviatoslav visited a parish of Holy Eucharist in Toronto.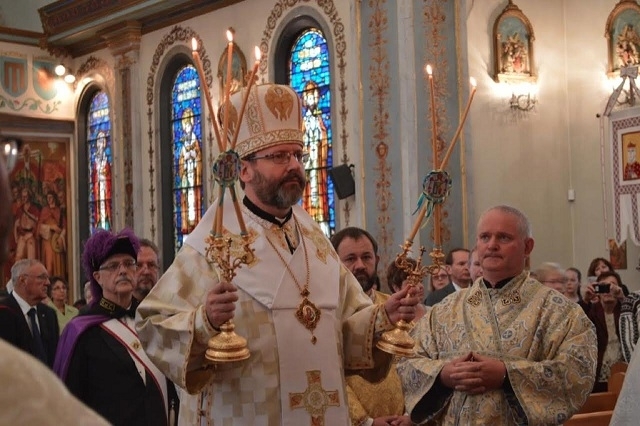 During a Hierarchial Divine Liturgy together with His Beatitude Sviatoslav co-served bishop Stephan Hmiliar, Bishop of Toronto and East Canada, fr Bohdan Bilinskiy - parochial priest, fr Volodymyr Kryvoglavyi – senior priest at parish of Holy Eucharist, fr Ivan Tataryn, fr Petro Dvirnyk, fr Ivan Palisa, fr Toma Hryvna and fr Ivan Hobela.
The visit of Major Archbishop to the parish was held on Friday, a working day. That is why the Archbishop mentioned in his word to the faithful that he was very impressed with people, who despite their work and other responsibilities had come to the church. "Thank you for leaving all your problems and life misery and coming to this church to glorify God", His Beatitude Sviatoslav said.
According to his words, on Friday we lift our eyes to Christ crucified. "In Gospel St John the Apostle describes an hour of glorifying the Son of God. This marvelous mystery, the moment of humiliation and crucifixion of the Son of God and moment of glorifying Him as a King. Ukraine is crucified today. Young men give their lives away for the Motherland and we can see crucified Christ in their eyes", the Head of Church asks to think about it.
"Touching the wounds of wounded soldiers, we touch the wounds of Christ. This hardest time for Ukraine is also a moment of its birth and a new glory. It is resurrection of Ukraine. Today we need Christ in Ukraine, and a resurrected God is with us", Head of Church said.
The UGCC Department of Information
According to the materials of Maria Kryvoglava
PUBLICATIONS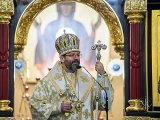 Head of the Ukrainian Greek Catholic Church brings multifaceted experience to project of evangelization.
MEDIA