His Beatitude Sviatoslav led a celebration feast in the parish of Saints Sergius and Bacchus in Rome
Tuesday, 20 October 2015, 12:46
On Sunday, 18 October, 2015 Ukrainian parish of Saints Sergius and Bacchus in Rome celebrated its cathedral feast.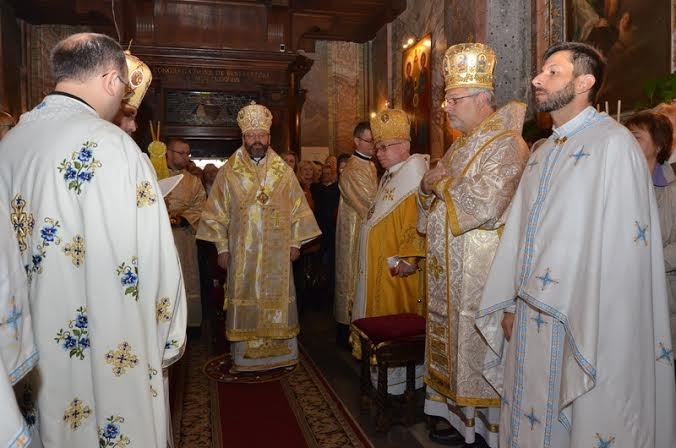 The culmination of celebration this church festival was Hierarchical Divine Liturgy led by His Beatitude Sviatoslav, the Father and Head of the Ukrainian Greek Catholic Church. With the Head of the UGCC coserved Bishop Dionysiy (Liakhovych), Apostolic Visitator for Ukrainian Greek Catholics in Italy and Spain; Bishop Irynei (Bilyk), Bishop Emeritus of the Diocese of Buchach, canon of the Papal Basilica of Santa Maria Maggiore; Bishop Glib (Lonchyna), the ruling Bishop of Diocese of the Holy Family with its headquarters in London, Apostolic Visitator for Ukrainian Greek Catholics of Ireland; Bishop Brian (Bayda), Bishop of Saskatoon (Canada); Fr Ivan Kulyk, Ukrainian pastor of the parish of Saints Sergius and Bacchus; celibate priest Luis Cassian, Rector of the Ukrainian Papal College of St Josaphat; celibate priest Mavrykiy Popadyuk, adviser to the General Superior of the Basilian Order; Fr Jaroslav Karpiak, an employee of the Congregation for the Oriental Churches; Priest Ivan Gobela, doctoral of Pontifical Oriental Institute.
After the Gospel reading that tells about the miracle of the resurrection of the widow's son from Nain, His Beatitude Sviatoslav addressed the numerous worshipers with preaching, in which it is said that we are all bearers of hope, given to us by Christ through His victory over the death and a glorious resurrection. Also the preacher expressed His sincere gratitude to all Ukrainian migrant workers in Italy, especially in Rome, for the testimony of deep and sincere faith in those families, places and circumstances where they work.
Straight away after the Divine Liturgy there was the water blessing ceremony on the occasion of the Cathedral feast, which was served by His Beatitude Sviatoslav together with High priests. So, the Cathedral feast was continued with common meal for parishioners and guests.
It should be noted that this is the first time in the history of Ukrainian parish in Rome His Beatitude Sviatoslav together with four High priest served the Divine Liturgy on the occasion of the feast. Also, His Beatitude Sviatoslav left a memorial record in the book of the Gospel on the occasion of this event.
In the context of the Cathedral feast celebrations there was a charity concert in the support of ATO soldiers called "For the will of Ukraine". All the present could listen to the patriotic Ukrainian songs and poetry, intertwined with interesting facts on the history of the liberation struggle of the Ukrainian people from princely times until today.
Ukrainian Roman parish youth on the occasion of the parish feast prepared special bracelets with national symbols to support soldiers - defenders of our country with the donations.
Reported by Fr. Ivan Kulyk
PUBLICATIONS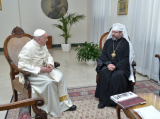 3 July at 10:00 AM, at Casa Santa Marta in the Vatican, Pope Francis met with His Beatitude Sviatoslav. The meeting was held at the request of the...
MEDIA