His Beatitude Sviatoslav met Apostolic Nuncio in Austria
Sunday, 13 November 2016, 17:24
On November 11, 2016 Head of UGCC, His Beatitude Sviatoslav during his visit to Austria met with Apostolic nuncio to Austria, Archbishop Peter Zurbriggen, diplomat of the Holy See.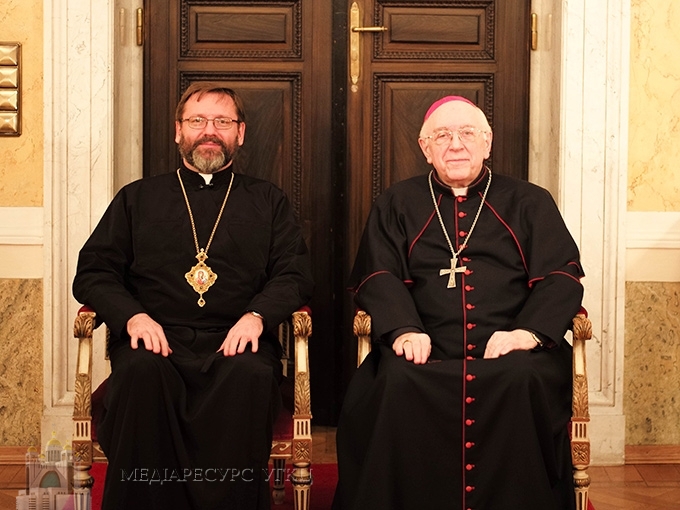 In a meeting also took part fr. Yuryi Kolasa, General vicar of Catholics of Byzantine rite and Rudolf Prokshi, professor of Catholic theology faculty at University of Vienna and vice-president of Foundation of scientific researches of ecumenical relations "ProOriente". The conversation was also joined by rector of International Theological Institute in Trumau and principal of Catholic gymnasium in Baden at the same time, Christiaan Alting von Geusau, Phd.
During the meeting His Beatitude Sviatoslav shared his impressions with the present ones about a participation in a regular plenary assembly of Pontifical Council for Promoting Christian Unity. Head of UGCC said: "I am returning to Ukraine truly uplifted and full of inspiration".
His Beatitude Sviatoslav told the ones who were present about different ecumenical initiatives of UGCC in Ukraine and exposed a situation of inter-church relations. The Major Archbishop reminded of a fruitful cooperation of UGCC with Protestant Churches in Ukraine, what might be considered as a good example to follow.
At the end Head of UGCC shared his impressions with everybody about his visiting Kramatorsk and how a life of people in so-called "grey zone" looks like, and participation of UGCC in implementing an initiative "Pope for Ukraine".
Photos are given by Ann Art
Press service of ordinariate
for Catholics of Byzantine rite in Austria
PUBLICATIONS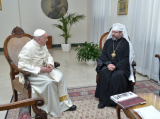 3 July at 10:00 AM, at Casa Santa Marta in the Vatican, Pope Francis met with His Beatitude Sviatoslav. The meeting was held at the request of the...
MEDIA