His Beatitude Sviatoslav met with the Ambassador of Lithuania in Ukraine and spoke about connection between the history of the UGCC and the Lithuanian Republic
Wednesday, 19 October 2016, 10:13
On October 18 the Head and Father of the UGCC His Beatitude Sviatoslav met in Kyiv with the Ambassador of the Lithuanian Republic in Ukraine Marius Janukonis. The Head of our Church thanked the Ambassador for the meeting which he had initiated. "The history of the UGCC is connected with Lithuania. For instance, in 2017 in Vilnius we are going to celebrate the 400th anniversary of reorganization of the Basilian Order and the 150th anniversary of canonization of St. Josaphat Kuntsevych, who joined the Monastery of Holy Trinity in this city. I hope to visit it in November next year", told the Head of Church to Mr. Janukonis.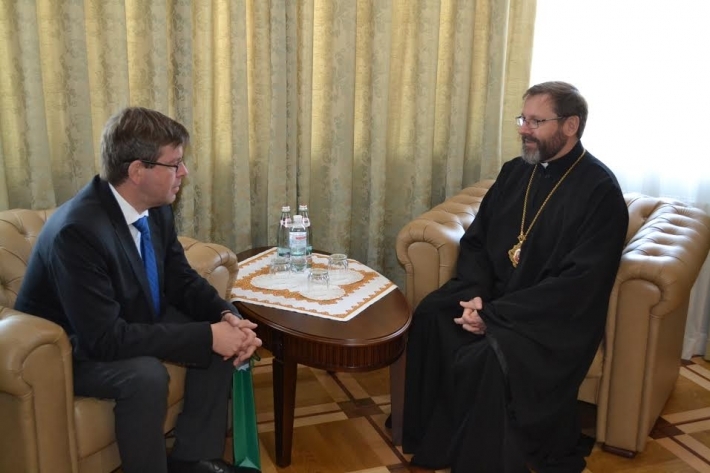 Also, the Primate of the UGCC thanked him that Lithuania remains with the Ukrainian people at this uneasy time: "We constantly feel solidarity both on the part of the Lithuanian people and its leaders". And the Ambassador thanked the. Head of our Church for active civil position. He also noted the initiative "National Forum of Transformation of Ukraine", which the UGCC is involved in. This forum aims at developing and implementing approach of using experience of Poland in transforming their country according the EU standards. "It's an important platform where civil organizations and activists, who are trying to change Ukraine into European country, have an opportunity to meet, talk and show what they are doing", said the diplomat. "Thus, European Ukraine from just an idea is turning into the all-national project for building a European country".
"This forum can become the platform where meet all the vectors: civil initiatives,foreign partners (Europe), and, hence, politicians who must serve to this project", is convinced His Beatitude Sviatoslav.
Mr. Ambassador was interested in inter-church relations in Ukraine. The Head and Father of the UGCC told him about work of AUCCRO.
Mr. Janukonis noted the contribution of the UGCC in reforming the educational sphere in Ukraine. Then His Beatitude Sviatoslav presented to his Lithuanian guest the vision of the UGCC about transformation of education in Ukraine, in particular, he told him about discussions regarding Catholic schools, which are held because of the new "Law about Education" in Ukraine.
The UGCC Department of Information
PUBLICATIONS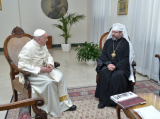 3 July at 10:00 AM, at Casa Santa Marta in the Vatican, Pope Francis met with His Beatitude Sviatoslav. The meeting was held at the request of the...
MEDIA