His Beatitude Sviatoslav met with Ukrainian children, youth and representatives of community organizations in Austria
Monday, 14 November 2016, 16:54
During his visit to Austria Head of UGCC His Beatitude Sviatoslav in Vienna on November 12, 2016 visited Ukrainian Saturday school in "Urania" where children with their parents were waiting for him.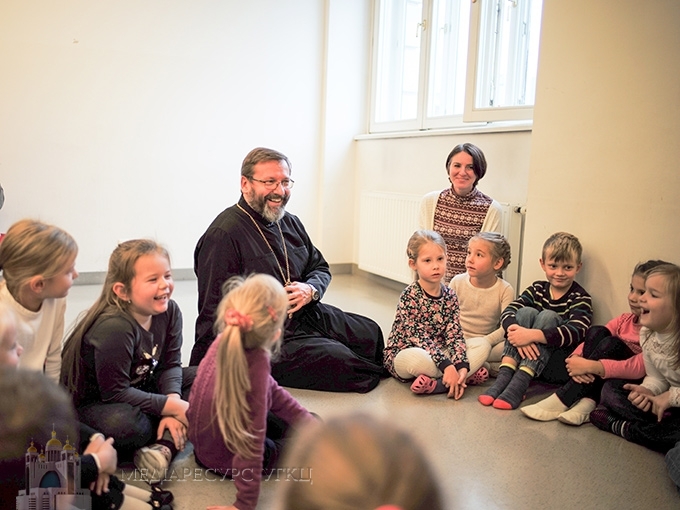 Entering the class, where in a friendly circle children were sitting, His Beatitude Sviatoslav joined them at once, and started asking if they found studying interesting. Painting, reading, playing musical instruments appeared to be the most favorite subjects of young Ukrainians. Here, for senior students are individual educational programs, agreed with Ministry of Education of Ukraine.
On the whole Saturday school in Vienna educates 140 students nowadays.
As it was said by one of the managers of the school Rostyslav Tys, the educational institution functions owing to a financial support of parents and benefactors. "There are many people who work as volunteers, without getting any salary for this", Rostyslav Tys proceeds.
Later, His Beatitude Sviatoslav talked to all students, who were waiting for him in a Student's Hall. Questions are thus a bit like: if St Nicholas visits him, how many languages do you know, where does the God live – impressed Head of Church and everyone who was present there with its simplicity.
After a short break Head of Church was put a lot of questions from numerous students and Ukrainian youth. His Beatitude Sviatoslav shared with students his thoughts about the assimilation process of Ukrainian youth abroad: "The process of assimilation of Ukrainians is far more faster today than it used to be. We say yes to integration and no to assimilation. Since it is very important to preserve real Christian identity".
These words of His Beatitude Sviatoslav became truly farewell for our compatriots: "Whether you are in Ukraine or out of its border – you have no right to forget about it".
At the end of visiting school, Head of UGCC talked to the delegates from Ukrainian community organizations which function in Austria. To this meeting also arrived representatives of Ukrainian-Austrian community, International community named after Chubynskyi and Ukrainian community named after Ivan Franko, representative of Ukrainian Saturday school "Erudite" Halyna Pavliuk, the main coordinator of Community organization "Center for Ukrainian initiatives" Oleksandra Sayenko, and representatives of sport associations. Everyone had a chance to present His Beatitude Sviatoslav the ways of their work. At the common dinner table, all the present shared their thoughts regarding the situation in Ukraine and discussed the possible ways to help our compatriots.
Press service of ordinariate
for Catholics of Byzantine rite in Austria
PUBLICATIONS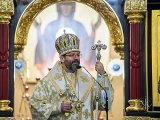 Head of the Ukrainian Greek Catholic Church brings multifaceted experience to project of evangelization.
MEDIA