His Beatitude Sviatoslav on the Assumption of the Blessed Virgin Mary: "The key to our victory is the Virgin Mary"
Friday, 29 August 2014, 12:15
Many asked themselves: where do we go? What way will it be? What sacrifice have we to make to complete it with dignity? These are the questions we currently do not have the answers to, and perhaps no one has. But the answer to these questions gives us today the Virgin Mary. She, as a mother, tells us: do not be afraid, go. I'm going with you; I will not let you alone.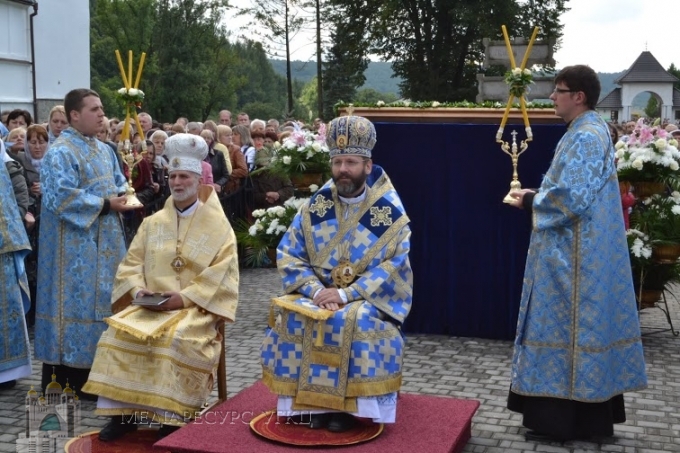 That was said by the Father and the Head of the Ukrainian Greek Catholic Church, His Beatitude Sviatoslav (Shevchuk) on the feast of the Assumption of the Blessed Virgin Mary during the pilgrimage to Univ Lavra (Lviv Region).
Thousands of pilgrims arrived on a pilgrimage to Univ.
His Beatitude Sviatoslav, making an analogy, said that our people from East to West, from North to South are in the pilgrimage. "We are travelling with you. We go forward. Just as when God's people with Moses travelled across the desert. He went from slavery to freedom. From death to life. From the house of slavery to the Promised Land", - said the Preacher.
He remembered that when Moses dared to lead the people this journey, the Lord said to him: Fear not, for I am with you.
When the angel Gabriel comes to the Virgin Mary, he tells her the same words: Greetings, o, favoured one, for the Lord is with you. Fear not, Mary: for you have found favour with God. "Today, in her Assumption she shows us the way to resurrection to a new life, for today she goes from life to life, from earth to heaven" - convinces the Primate.
He said that Christians have the Virgin Mary for the centuries as the invincible sign and force for the enemies.
According to Him, today the faithful in Ukraine are in great anxiety and uncertainty. We came, we trusted God's calling and went in the course of the pilgrimage of dignity and freedom. Today we ask the Virgin Mary to set off the pilgrimage with us in our journey to freedom as the Ark of the New Covenant. It is the key to our victory"- requests to think the Archbishop.
He recalled that under her intercession Prince Yaroslav the Wise initiated our land. And this devotion our church renewed this year. And with this devotion we firmly step forward.
It should be noted that Bishop Borys (Gudziak), Eparh of Paris Diocese of St.Volodymyr UGCC concelebrated with the Head of the UGCC.
UGCC Department of Information
PUBLICATIONS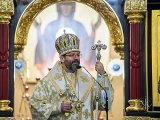 Head of the Ukrainian Greek Catholic Church brings multifaceted experience to project of evangelization.
MEDIA