His Beatitude Sviatoslav planted an oak tree in honor of a person on the Oak Alley in Moryntsi
Thursday, 24 April 2014, 09:22
In the Cherkas region, in the village of Moryntsi, the small homeland of Taras Shevchenko, on April 22, 2014, the Oak Alley was ceremonially renewed by planting twenty new young trees.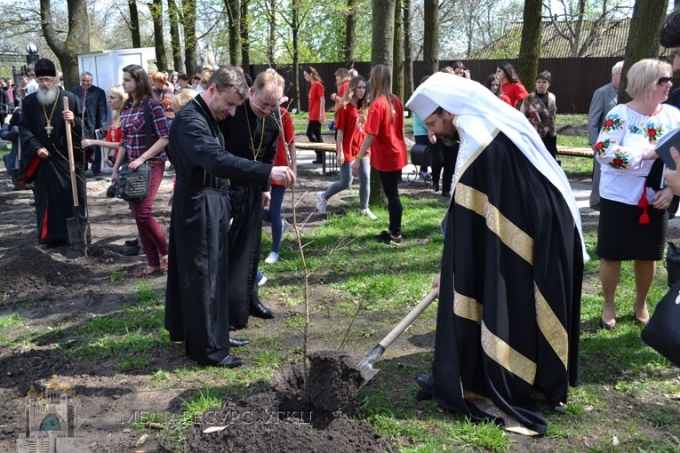 His Beatitude Sviatoslav celebrated a public prayer and planted a tree in honor of Archbishop-Emeritus, His Beatitude Lubomyr (Husar).
In his welcoming address, the Church Prelate noted that in Moryntsi it is very important to carefully listen to sounds. Shevchenko, as a child, probably heard a lot of secret conversations…
"I believe that Shevchenko Alley talks about freedom, about the resurrection of Ukraine, inspires all of us with optimism that Ukraine is also resurrecting and that Ukraine is and will be," stated His Beatitude Sviatoslav.
The Archbishop stressed that it is worthwhile to continue the tradition of planting trees on this alley.
"Europe begins from a planted tree," believes the Head of the Church.
His Beatitude thanked the community initiative of the University of Banking. "May these trees that we have planted, grow into hundred-year-old oaks, who in Moryntsi will speak both to people and to God about freedom," wished the Major Archbishop.
The Oak Alley in Moryntsi was planted half a century ago; however, for a long time it was neglected. And thanks to the community initiative of the University of Banking of the National Bank of Ukraine some eight months ago, the effort to bring it into order began. There appeared a fence, benches, turf paths, and also now a freely accessible bookcase, for which books were donated by quite a number of renowned Ukrainian writers.
UGCC Department of Information
MEDIA