His Beatitude Sviatoslav prayed for the repose of the soul of Bishop Sofron Mudryj
Monday, 03 November 2014, 16:00
UGCC Father and Head Sviatoslav (Shevchuk) led the Archbishop's funeral service for the repose of the soul of Bishop Sofron (Mudryj) in the Cathedral of the Resurrection of Christ in Ivano-Frankivsk.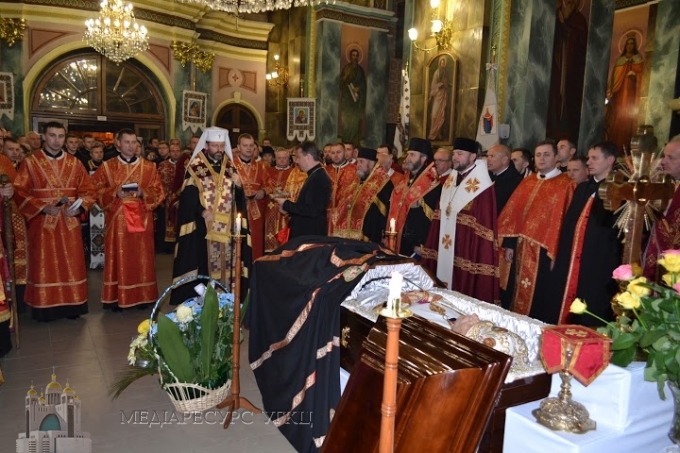 "Today the Ivano-Frankivsk Archeparchy and Metropolitanate feels orphaned. The whole Synod
of Bishops of the Ukrainian Greek-Catholic Church feels orphaned. Today our mother – the Ukrainian Greek-Catholic Church, is orphaned," stated the Prelate.According to the words of His Beatitude Sviatoslav, in the funeral prayers all jointly beseeched that God take into his fatherly embrace our father, our bishop.
"In praying for him we thank the Lord God that He gave us such a bishop. In bidding farewell to hom, we primarily see a real monk – a person who dedicated his whole life to God," noted the Head of the Church.He also thanked God that he gave us Bishop Sofron as a teacher and educator of whole generations of priests of our Church.
For many years Bishop Sofron was the rector of St. Josaphat Collegium in Rome. He educated whole generations of priests for our diaspora. The Bishop worked fervently that also in Ivano-Frankivsk Spiritual Seminary and Academy, priests be raised. He departed into eternity as the Rector of the Theological Academy.
"How many priests he ordained to a priestly life! However, we have to especially honor Bishop Sofron as a bishop, a hierarch and pastor of Christ's Church," stressed UGCC Head.
Then the large number of clergy began a Priest's Funeral Service and the reading of the Gospel.
UGCC Department of Information
PUBLICATIONS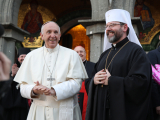 ROME - As the Catholic Church's Synod of Bishops in Rome was meeting on Oct. 11, it was another synod across the Aegean Sea in Turkey that sent...
MEDIA