His Beatitude Sviatoslav thanked American Catholics for their support
Thursday, 25 June 2015, 14:42
On 24th of June a delegation of the US Conference of Catholic Bishops finished its visit of solidarity and support concerning Ukraine. The archbishop of Louisville, Joseph Kurtz, the President of the United States Conference of Catholic Bishops with the archbishop of Chicago Blase J. Cupich, the chair of the USCCB Subcommittee for the Church in Central and Eastern Europe spent a few days in Ukraine to get acquainted with a situation in Ukraine more accurately.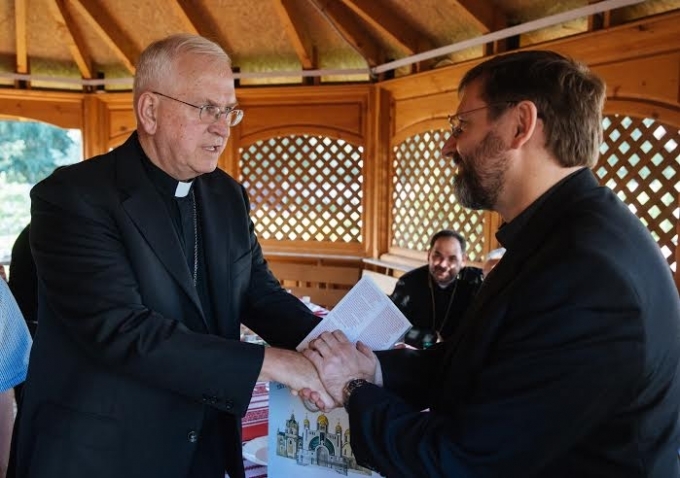 They visited Kharkiv, Kyiv and Lviv and could see with their own eyes the development of the Church in Ukraine that has been generously supported with American Catholics for 25 years. Archbishops met with religious and political leaders and also conversed with forced migrants in Kharkiv, young activists in Lviv, students of Kyiv Three Saints Seminary.
The summary of a visit was a meeting with Archbishop Emeritus, His Eminent Beatitude Lubomyr and the Head of the UGCC, His Beatitude Sviatoslav.
The Head and Father of UGCC thanked all American Catholics for their support and the representatives of the delegation for coming and maintaining the Church and nation at a hard war time. "Thank you for being with us in time of sufferings and fear. A moral solidarity is the same important as a financial support", mentioned he.
His Beatitude Sviatoslav also said that today is a unique time for evangelization in Ukraine. Ukrainians need and listen attentively to the Church's voice. "In our development strategy we say, the vibrant parish a place to encounter a living Christ. However, recently we also have witnessed that Maidan, the front line are places to encounter a living Christ. In such moments a society opens the doors to the Church and Church must have enough skills to enter", - stressed on an Archbishop.
The main Archbishop added that a spiritual renewal that UGCC came through on West Ukraine in 90th, now it is coming through on Central and East Ukraine.
The members of a delegation of the US Conference of Catholic Bishops shared their thoughts and experience with Ukrainian hierarchs, gained during their short but successful visit to Ukraine.
"We have seen a camp of migrants in Kharkiv, really tragic and grim fates, with so less living conditions, but with a mutual support, acceptance and joy. During the meeting with US Ambassador to Ukraine we mentioned that an international community can do more, because it is not enough to have just one of such camps", signified an Archbishop Blase Cupich.
For the delegation it was also important to know the details of a recent Ukrainian history, to retell it to the Catholics in America. "We walked from St. Sophia Cathedral to the Maidan and it was very touchingly for us to see with our own eyes the traces of struggling for dignity and freedom", - explained Archbishop Joseph Kurtz, who visited Ukraine for the first time.
Maryana Karapinka
PUBLICATIONS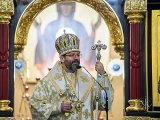 Head of the Ukrainian Greek Catholic Church brings multifaceted experience to project of evangelization.
MEDIA