His Beatitude Sviatoslav thanked Austrian journalists for their wish to find out the truth about a situation in Ukraine
Thursday, 24 September 2015, 11:32
From September 21-25 in Ukraine is staying a group of Austrian journalists who came to get to know more about Ukraine. Father Yuriy Kolasa, a general vicar of Byzantine rite in Austria, who is accompanying journalists during their trip, has informed UGCC Department of Information about it.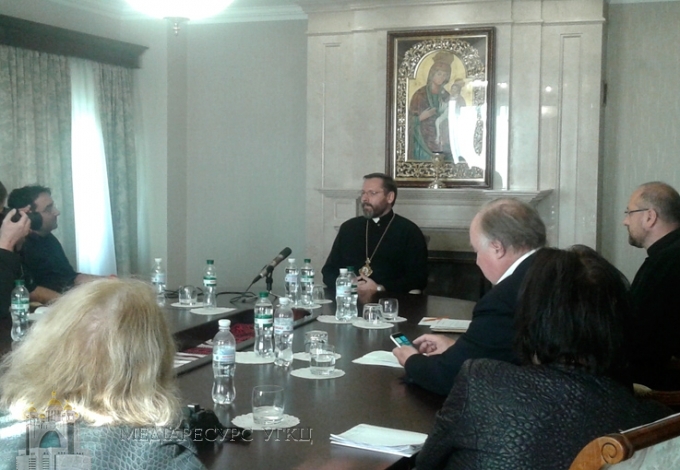 Guests from Austria will visit Kyiv and Lviv where they meet with the representatives and Heads of Churches in Ukraine, representatives from government and the public.
During the meeting that was held on 22 of September in Kyiv, with His Beatitude Sviatoslav, the Head of the UGCC, Austrian journalists were asking about the years of UGCC persecution in XX century, about leaving a clandestine activity, position of Church today, about its cooperation with other Churches and religious organizations. There were also discussed modern social changes in Ukraine, revolution of Dignity, war at East Ukraine.
"Churches had different ways to Maidan, but all the confessions were present there, - mentioned His Beatitude Sviatoslav, speaking about the role of the Church during the Revolution of Dignity. – Laity, together with clergy of different confessions stood together praying and defending European aspiration of Ukrainians".
Speaking about Information warfare, being conducted in Ukraine now, the Head of the UGCC thanked guests for their wish to visit us and see the truth with their own eyes. "We need your solidarity with us; we need your efforts to widespread the truth about Russian military aggression, about a heroic struggle for freedom, conciliarism and independence of our people. The struggle, being led by different confessions, not only citizens of East but West, as well; both Ukrainian-speaking and Russian-speaking people", - said the Head of the Church.
As father Yuriy Kolasa has said, a visit of Austrian journalists is connected with a last year visit to Ukraine of a cardinal Christoph Schönborn as a Pope's delegate on occasion of the 25th anniversary of the UGCC Clandestine activity.
A priest told how much a cardinal was impressed with what he had seen in Ukraine. "He revealed to himself a lot of things, - said a priest. – For instance, during a meeting with UCC and RO he discovered two grains of truth. The first grain – he heard from Patriarch Filaret, among all bishops, that Ukrainian Orthodox Church exists in Ukraine thanks to a strong fight of the Ukrainian Greek-Catholic Church in time of its clandestine activity and leaving it afterwards. It was a big pleasure for a cardinal to hear the Head of the UOC speaking about the UGCC in such a way. The second grain – during that meeting uniquely he discovered a fact when hatred dominates in the world, let's say a brutal persecution of Christians by Muslims, here in Ukraine these two nations had been united to defend dignity of a human, her rights and liberties. It is such a unique experience, hardly ever met in the world".
Furthermore, after visiting Caritas, a cardinal saw the Ukrainian Greek-Catholic Church taking care of the re-settlers from Donbas, in other words Russian-speaking families.
Besides, after visiting Memorial of Famines' Victims, cardinal Schönborn was surprised with a fact that today people in West Europe, particularly in Austria know so little about that horrible years when people were starving to death.
According to his words cardinal Christoph Schönborn tried to inform west world about it. "Coming back to Austria, a cardinal had been trying to present it to the society. It awoke interest among journalists. He possesses an absolute authority as an Archbishop of Vienna, a cardinal of Austria. As a result, journalists decided by themselves to visit Ukraine, hear and see everything in order to speak truth about Ukraine over again," – mentioned father Yuriy Kolasa.
The UGCC Department of Information
MEDIA