His Beatitude Sviatoslav visited one of the oldest churches of the UGCC in Canada and had a meeting with the parish youth and children
Tuesday, 11 September 2012, 09:34
On the 7th of September 2012, the Head of the UGCC visited the centennial Church of St. Nicholas in Winnipeg city (Canada) and had a meeting with the local parish youth and children. More than one hundred young people gathered in one of the oldest Greek-Catholic Churches in Canada, which was built in 1899 by the Ukrainian workers.
His beatitude Sviatoslav celebrated a prayer service in the church and responded to the questions of young people. The meeting was moderated by Andriy Konopelnyi, who has graduated from the local Catholic School of St. Paul, and is the Fellow of Manitoba University, the member of university association "The Leaders of the Future". Since 2004, Fr. Demyan Dutka is the pastor of the Parish.
The Parish youth and children were united in the Youth Community and in the Sanctuary Brigade. For over the 60 years, the young parishioners- members of the Youth Community- were participating in national and diocesan conventions of the Ukrainian Youth of Canada. In the early years of its existence, this community included around 30 people. Since 1960, only teenagers are among members. The majority of club members participated in the World Youth Day in Toronto in 2002, which was also attended by the Pope John Paul II.
In May of 1922, "The Children of Mary" community was established, among the members of which, there were 55 girls. In October of 1929, the Society of Mary for the girls from the age of seven started operating. In 1935, the same community, but for boys, was established.
The Sanctuary Brigade is operating within the parish since the day it has been established. The responsibilities of its members include lighting the candles at the altar prior to the divine service, carrying candles in processions, the incense making and the assistance to the priest in liturgical acts. Since 1972, the sanctuary servants also started to read the apostolic reading during the Sunday liturgies.
"The Sisterhood of St. Barbara" is the oldest parish organization. Having been established in 1904, this women's organization soon became was in ward to the Congregation of the Sisters Servants of Mary Immaculate. On the 25th of May 1945, women of the Parish of St. Nicholas formed the first branch of the newly established national organization the "League of Ukrainian Catholic Women".
From January 1965, at this parish, the Boys Club "Bingo" started functioning. The most famous event, which is organized by this Club - is the Annual Ukrainian Sportsman's Dinner. Each Wednesday a Wednesday Night Bingo is taking place within the Parish Club.
From July of 1922, in this parish, the "Apostleship of Prayer" started operating, and since 1985 – so did the "Knights of Columbus" organization.
UGCC Department of Information
PUBLICATIONS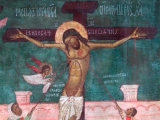 "Open to me the doors of repentance, O Giver of Life. As we worship in Your temple this morning, teach us how to purify the temple of our...
MEDIA