His Beatitude Sviatoslav was invited to visit Dzhublyk
Saturday, 03 October 2015, 18:45
On the 1st of October, father Atanasiy Chyipesh, prior of the monastery of the Assembly of Mother of God, Greek-Catholic Church Eparchy of Mukachevo and couple of Maryana and Mykhailo Romaniv visited His Beatitude Sviatoslav at his residence nearby Patriarchal Cathedral in Kyiv.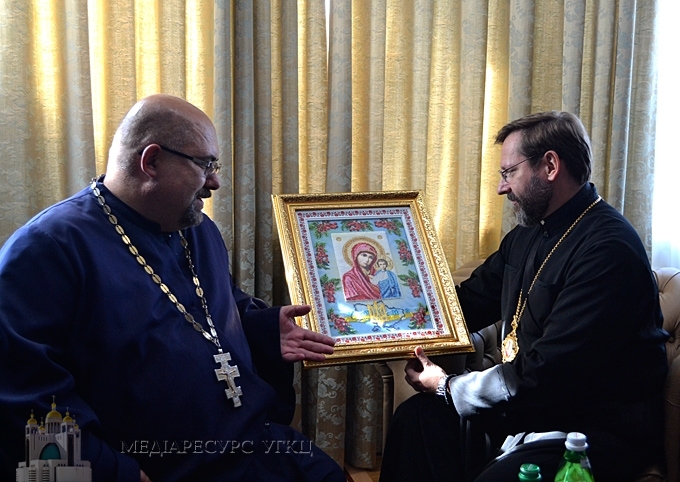 They came to Kiev in order to pass the Head of the Church an icon of Virgin Mary, embroidered with glass beads for him by the parishioners of Dzhublyk. "For His Beatitude Sviatoslav with a sincere love a deep wish of a common prayer in Dzhublyk", - an icon was signed with such words.
Opportunely, father Atanasiy gave His Beatitude Sviatoslav an invitation from a community in Dzhublyk to visit this place in Irshava district and pray together for a Church unity and people altogether. The Head of the UGCC gladly responded to such an initiative and pointed out that he would be able to serve a Divine Liturgy only under the agreement of a local bishop Milan (Shashik).
Also the Head of the UGCC thanked a community of Dzhublyk for their constant prayers to reach a unity of all Greek-Catholic Church over Ukraine. "I do everything I can do to unite Ukrainian Greek-Catholic Church and Greek-Catholic Church Eparchy of Mukachevo not only in a Eucharist way but administrative way, as well. Above all, we need God's mercy for it. Thus, I thank you sincerely for your constant praying in these intentions", - said His Beatitude Sviatoslav.
The UGCC Department of Information
PUBLICATIONS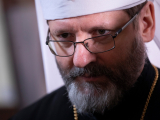 Christ is Risen! Dear Brothers and Sisters in Christ!
MEDIA