His Beatitude Svyatoslav joined 24 Hour Bible Reading Marathon on Sofia Square
Sunday, 08 July 2018, 15:11
His Beatitude Sviatoslav, the Father and Head of the UGCC, took part in the round-the-clock Bible reading marathon, which began at Sofia Square in Kyiv.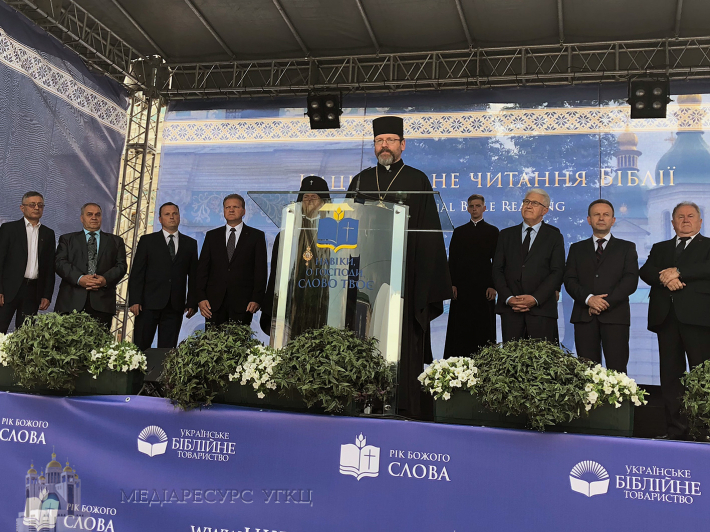 "I want to congratulate all of you with a special year in the history of our state - the Year of God's Word, which does not coincidentally happen together with the anniversary of the Baptism of Rus'-Ukraine. Now we will endure the special moment of unity – the unity of priests, faithful of various Churches, different confessions, all Ukrainian citizens around God's Word. The Apostle Paul teaches that the Word of God, the Gospel, is the power of God to salvation of everyone who believes. Let the joint reading, joint hearing, and therefore the joint fulfillment of God's Word in our lives become the moment of our national unity. And we still have to say with the prophet: "Speak to us, Lord, for your servant is listening," said His Beatitude Sviatoslav before the start of the marathon.
After that, the Head of the UGCC read out an excerpt from the Book of Genesis.
The Sacred Book will be read aloud from beginning to end. Оver 300 readers - heads of churches and clerics from all over the country, state officials, representatives of the government and foreign guests are going to take part in it. The marathon will last until 19:00 on July 8th.
The action is nominated in the National Register of Records of Ukraine. Its purpose as one of the events on the occasion of the Year of God's Word is to draw the attention of Ukrainian society to the Bible not only as an ancient, historically significant book but also as an accessible and actual source of wisdom and moral and ethical norms for the present.
Department of Information of the UGCC
PUBLICATIONS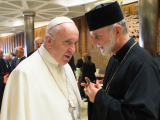 An unprecedented event took place in Rome on July 5-6. Desiring to demonstrate support for the Ukrainian Greek-Catholic Church at a time of...
MEDIA