His Beatitude Sviatoslav sanctified new dome crosses for the church of the Studite monastery in Obukhiv
Wednesday, 20 February 2019, 13:57
The Father and Head of the Ukrainian Greek Catholic Church, His Beatitude Sviatoslav, on the Feast of the Presentation of the Lord on February 15, 2019, consecrated three dome crosses for the church of the Annunciation of the Blessed Virgin, at the Studite monastery.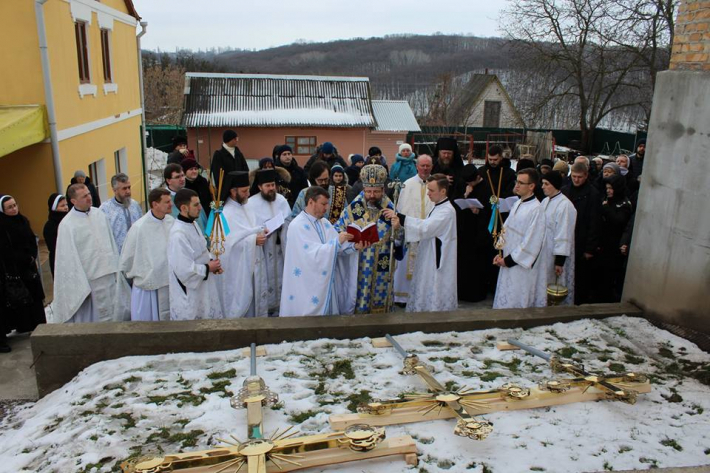 It is worth noting that on April 1, 2017, His Beatitude Sviatoslav sanctified the cornerstone of the monastic church. The previous year, September 16, 2018, Bishop Josyph Milian (Assistant Bishop of Kyiv Archdiocese of the UGCC), Bishop Theodor Martyniuk (Assistant Bishop of Ternopil-Zboriv) and Bishop Venedikt Aleksiychuk (the Ruling Bishop of St. Nicholas Eparchy in Chicago) consecrated the lower chapel of St. Anthony Pecherskyj . Today the construction of the upper church - the Annunciation of the Blessed Virgin Mary - is being finished.
"Monks and parishioners of the monastery in their prayers ask the Lord God to send good and generous people who would help complete the church. We thank the Lord because he sends many good people - architects, engineers, skilled builders and generous donors to the monastery. The first and most important benefactor was His Beatitude Lubomyr Husar. He was happy the monks began to build a church in the town of Obukhiv," said Fr. Olexandr Prylip.
And then he added: "Monks should be grateful to His Beatitude Sviatoslav for the blessing of the dome crosses and for his paternal care. There were many parishioners and guests, present, as well as the mayor of Obukhiv Oleksandr Levchenko on the holy day. On the same day in the monastery of St. Anthony Pecherskyj another historic event took place: the Gornykevych family from Austria presented the monastery an icon of "Our Lady of the Sign," with a signature of Metropolitan Andrey Sheptytsky, who was in jail in Kursk on December 27, 1914. This icon had been carried to Ukraine as a sign that Metropolitan Andrey was alive. The second identical icon with the signature of Metropolitan Andrey of 27.12.1914 is owned by our Beatitude Sviatoslav.
After the Divine Liturgy, His Beatitude Sviatoslav took his icon out of the panagia and showed it to those present to prove it is identical to the icon donated by the Gornykevych family. This was the first "meeting" of the two icons in almost 105 years. The monks are grateful to the Gornykevych family for this great gift for the monastery.
Department of Information of the UGCC
PUBLICATIONS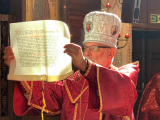 TO OUR BELOVED BROTHER IN CHRIST Most Reverend Bishop Kenneth Anthony Adam Nowakowski
MEDIA