"Honor of a military chaplain is far more significant than a juridical or canonical status", His Beatitude Sviatoslav
Friday, 09 December 2016, 22:46
Head of UGCC His Beatitude Sviatoslav greeted military chaplains – participants of 10th all-Ukrainian congress of military chaplains of UGCC, which was held these days in Kyiv.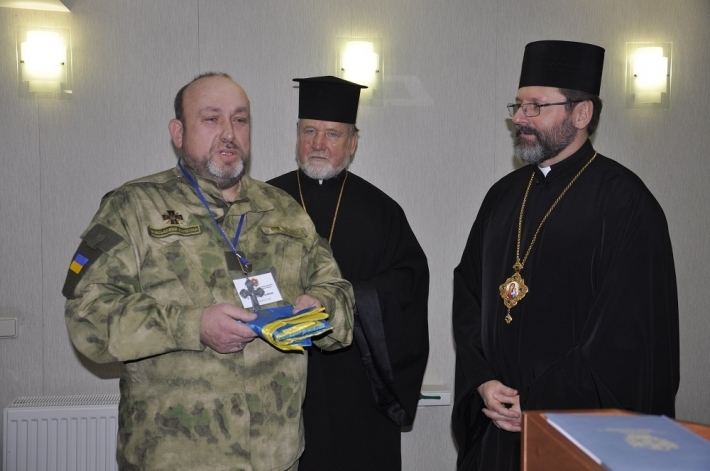 "Firstly I came here to say thank you. I want to thank for your sacrifice and everything you did to our Church, our people, our military men in particular", Head of UGCC referred to those who were present.
"Since we met, a lot of things have changed. Again, a lot of wounds and grief, blood, but one remains unchangeable. The unchangeable fact is that Church has always been with its people, will always be with its militaries and soldiers", Head of Church said.
His Beatitude Sviatoslav stressed that military chaplains have an important mission since they are spiritual physicians for Ukrainian militaries. And the words that Church has always been with its people has very special meaning. According to his Beatitude, to be means to suffer, endure and withstand together with every soldier at a battlefield.
Head of UGCC said that for the last years a new notion has appeared – an honor of military chaplain. "it is far more significant than a juridical or canonical status. The honor of a military chaplain means his spiritual rise, his spiritual height in eyes of those who he ministers to. Try not to lose this honor and dignity along your service".
"Human's life loses its value at war", the major Archbishop said and underlined that a task of a military chaplain is to "humanize" military men at the front, so they stay humans in inhuman situations.
Head of UGCC called chaplains to pray for each other, Ukrainian army and its victory. He also awarded with an award "Chaplain Cross" those priests who are serving in ATO zone.
Chaplains gifted His Beatitude Sviatoslav Ukrainian flag, signed by militaries from one of the battalions in ATO zone and cartridge-souvenir from the zone of military actions.
Press-center of Department of UGCC Patriarchal Curia
for Issues of Pastoral Care for Armed Forces
PUBLICATIONS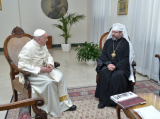 3 July at 10:00 AM, at Casa Santa Marta in the Vatican, Pope Francis met with His Beatitude Sviatoslav. The meeting was held at the request of the...
MEDIA