I am grateful to Catholic Church in Italy for its closeness to Ukrainian people, Head of UGCC in his letter to Italian Episcopal Conference
Saturday, 26 May 2018, 19:18
May 21 – 24, 71st General Assembly of Italian Episcopal Conference is being conducted in Rome. The topic of today's meeting of bishops from around Italy is a mission of Church in a modern mass-media context. Working sessions were opened by His Holiness Pope Francis in Vatican Synodal Hall.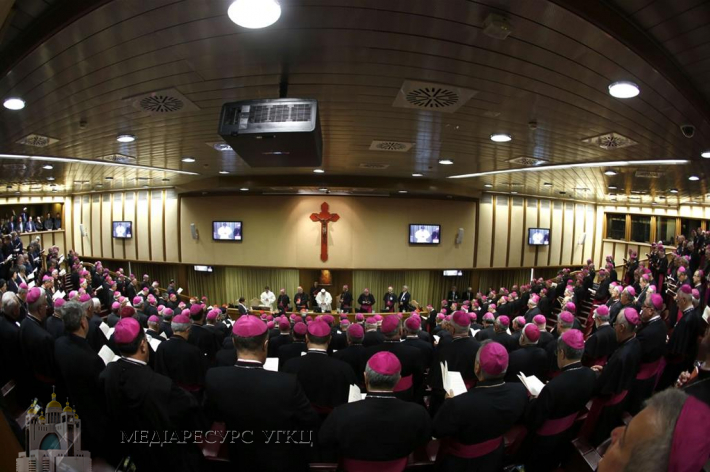 His Beatitude Sviatoslav wrote a letter to Italian bishops, expressing his gratitude for supporting Ukraine and Ukrainian migrants in Italy. In this letter he referred to war in Ukraine, which, for "the last four years of Russian aggression provoked a huge humanitarian catastrophe and caused deaths to more than 10 thousand of people".
Attempting to overcome variety of difficulties and challenges in Ukraine, Church doesn't stay aside a pastoral care of Ukrainian migrants, whose number "is increasing extremely in Italy". His Beatitude Sviatoslav drew Italian bishops, based on statistics, presence of Ukrainian migrants on Italian Peninsula, reminding that for many Ukrainian citizens, mainly youth, Italy will become a country for a constant dwelling. Head of UGCC thanked Italian bishops and priests, who made pastoral care of our believers possible".
Head of Church also recalled Pope Francis's visitation to St. Sophia Cathedral in Rome on 28th of February, 2018. "For Ukrainian migrants this visit was a symbol of closeness of His Holiness to Ukraine, as well as his parental care of it. In his homily Pope called Ukrainian women heroines and apostles of faith and love in Italian society", said the Major Archbishop.
His letter to the participants of the Assembly Head of UGCC closes with news about cardinal Gualtiero Bassetti's visitation to Ukraine. President of Italian Episcopal Conference is going to visit Ukraine in July on His Beatitude Sviatoslav's invitation to take part in pilgrimage to Zarvanytsia.
The delegate of His Beatitude Sviatoslav and representative of UGCC on General Assembly of Italian Episcopal Conference is bishop Dionisyi, Apostolic visitator for Ukrainians Greek-Catholics in Italy.
Secretariat of Head of UGCC in Rome
PUBLICATIONS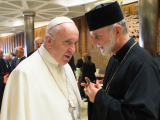 An unprecedented event took place in Rome on July 5-6. Desiring to demonstrate support for the Ukrainian Greek-Catholic Church at a time of...
MEDIA