I believe we face the same challenges today as our martyrs once did, - Head of UGCC
Friday, 20 April 2018, 13:03
On Monday, April 19 an opening of an exhibition titled "UGCC – time of tribulations" was held in National Museum of II World War in Kyiv. Basically, the major artifacts which were presented were personal belongings of metropolitan Andrey Sheptytsky, patriarch Josyf Slipyj, bishop Volodymyr Sterniuk and Fr. Klymentiy Sheptytsky.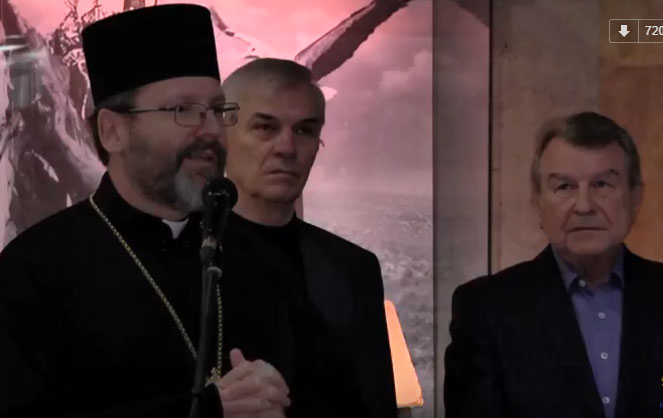 A lot of people participated in this event, among them: His Beatitude Sviatoslav, Head and Father of UGCC, bishop Josyf Miljan, Bishop-auxiliary of Kyiv Archeparchy, bishop Bohdan Dziurakh, secretary of the Synod of Bishops of UGCC, Fr. Sevastian Dmytrukh, advisor to the President of Ukraine Yuriy Bohutskiy, Ivan Kovalchuk, general director of National museum of II World War.
"I assume that everyone who crossed the threshold of this museum, passing these halls found themselves in a need to come here, where this exposition is being held. It is dedicated to sufferings, witnesses, hence such a big treasure the UGCC possesses today – martyrs of twentieth century and passion bearers", Head of Church addressed with these words at the beginning of the exposition. – I think that without this exposition, without referring to remembrance of martyrdom of our episcopate, priesthood, monasticism and faithful of UGCC – a memory of Ukraine about twentieth century would be incomplete. Apparently, no matter, either is it First or Second World War, the war we are going through today – by no means, it's still a destruction. A war itself brings tears, death, everything what we'd like to commemorate here today".
"Do not worry about how to respond or what to say. In that hour you will be given what to say. For it will not be you speaking, but the Spirit of your Father speaking through you".
Opening this exhibition today, we can firmly assert that these words of Jesus once said found its place in the sense of sufferings and tribulations, martyrdom of UGCC. These sufferings gave us a chance to proclaim and glorify Jesus Christ among atheists during Soviet regime times.
He also added that Christian testimony had one more important meaning. The majority of sufferings being experienced once – were the sufferings endured for the unity of Christ Church, recalling here four persons: righteous metropolitan Andrey Sheptytsky, patriarch Josyf Slipyj, blessed holy martyr Klymentiy Sheptytsky and archbishop Volodymyr Sterniuk.
Each of those tortured ones had been suggested to deny unity with the Holy See, a unity which Kyiv Church of Volodymyr's Baptism was born in, saying "you would get anything for that". Deny your identity, your faith and you will get grand cathedrals, an opportunity to solemnly celebrate all the services. It was something similar to the moment when Jesus was being tempted by evil spirit in the dessert.
"I want to thank all who organized today's celebration. We need this testimony so much today, both for Ukrainians and Christians. Now we are asking ourselves what is the right way to be Christians? How we can possibly fix the breakage and separation between and restore unity amongst Christians-successors of the Universal Church? How can we stay in harmony with God and our brothers and sisters simultaneously", Head of UGCC asks to think over it.
"I am sure this memory exhibition will help us to find the answer. I thank all of you who gathered these artifacts piece by piece. I would like to thank father Sevastian, the monk of a Studite order for helping to arrange these artifacts, this history and testimony, this memory be gathered in a collection here in Kyiv. I also want to thank the director of the museum for accepting this exhibition and complement it with memory, tribulations and sufferings of Ukrainians, gathered in this museum. I thank everyone who came to see this exhibition, and, probably, to walk a way of spiritual sufferings and testimony, however the way to Resurrection. Now we are glorifying a Resurrected Christ among us. I wish everyone a time of a deep reflection over the things you've seen", finished His Beatitude Sviatoslav with the words of an extreme gratitude by the end of the exhibition.
The UGCC Department for Information
PUBLICATIONS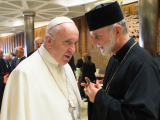 An unprecedented event took place in Rome on July 5-6. Desiring to demonstrate support for the Ukrainian Greek-Catholic Church at a time of...
MEDIA