"I want us to be better Christians this year", Head of UGCC on feast of Saint Basil the Great
Sunday, 15 January 2017, 10:55
Remarkably, monks of Order of Saint Basil the Great start their jubilee year in Kyiv. A renewal of our Church and monastic life has started precisely with Kyiv Union parent state. Head and Father of Ukrainian Greek Catholic Church His Beatitude Sviatoslav said it during the Divine Liturgy on feast of saint Basil the Great.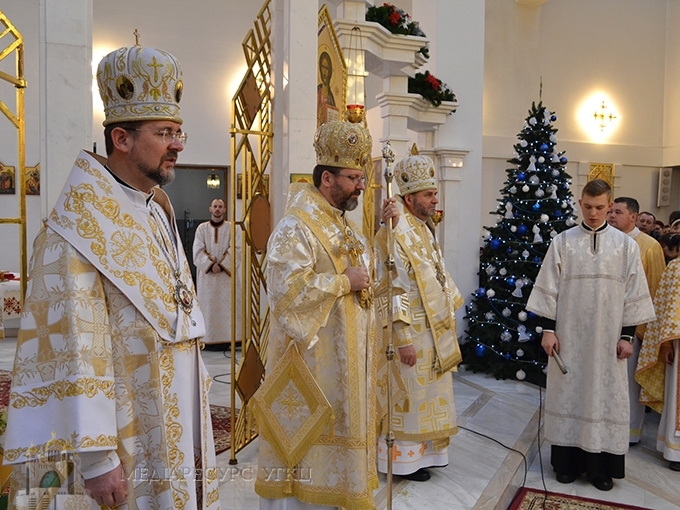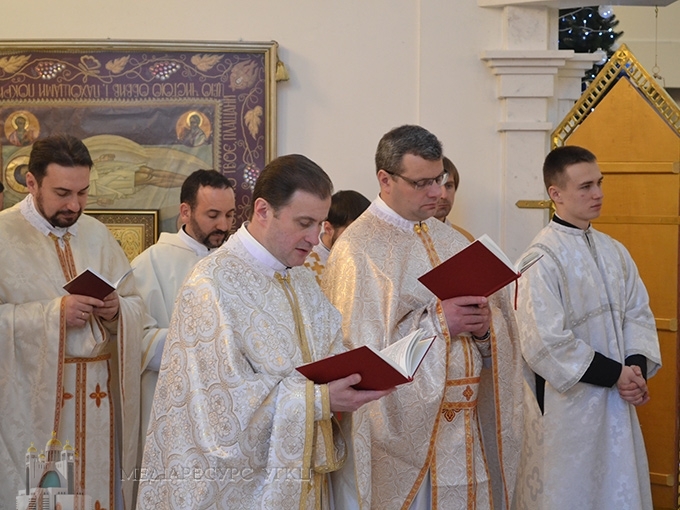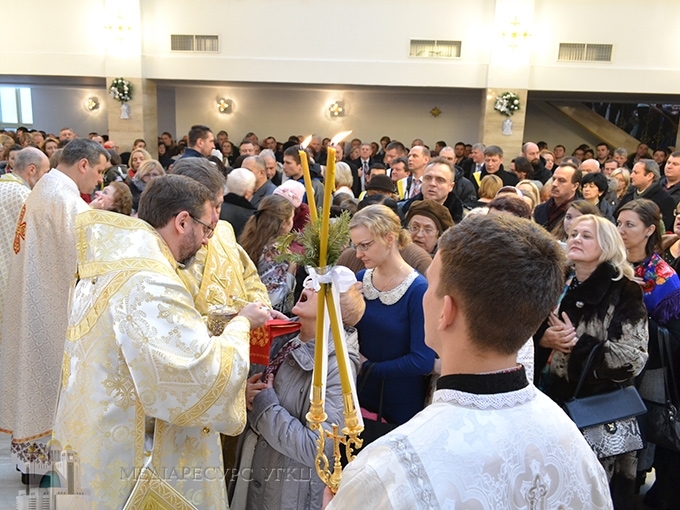 In his homily to the faithful Major Archbishop mentioned that according to Julian calendar January 14 we start a new year. We enter a new period of our church and personal life.
According to his words, being Christians we start this year with a special day – a feast. Today we celebrate a day of Circumcision of Jesus Christ. Today is the eighth day after Nativity of Christ. As we heard from the Holy Gospel, due to the law of Old Testament, on this day of circumcision a newborn Saviour receives a name Jesus, what means "Saviour".
"We can state that today Lord through a bodily circumcision of His Only Son reveals to us a sense of His mission what He was born for among us. Christ is born to put in a person not just a bodily circumcision but "eternal font".
"Circumcision of Jesus Christ, - the preacher proceeded, - is a precursor, a promise of being baptized, a moment when each of us receives a Christian name, a moment when God implants an embryo of internal life into us. Everything what God opens to us through His Only Son, letting us know His name – is doable for us. Saviour wants to offer His salvation everyone who will accept a gift of adoption and become a child of God under a new vow – in Baptism".
Every time we want to renew our life, every time we aim at a restoration what is personal, church, social – we ought to return to this font. We have to return to that power which God already filled us with. We need again and again to reveal to ourselves our own Christian names.
Starting a new year today, we also celebrate a day of Saint Basil the Great. "His personality shows us fruits of Baptism", Head of Church assumes.
Saint Basil the Great descended from a rich and educated family. Hearing God's word about a new Christian name, hearing Gospel about a new life that proceeds from Baptism, he understood the meaning of Greek philosophy's saying: "Know yourself" in a different way. Ascetic life of Saint Basil, his monastic way of life, his deep theology was nothing but a recognition of salvation gift which God put into his heart. Every time he came back to the font – font of eternal life".
Besides, these days we start a special jubilee year in UGCC life and life of order of Saint Basil the Great.
Head of Church reminded that previous year we thanked God for 420th anniversary of Union of Brest, Church unity which brought Kyiv Church to the source of integrity of Christ's Church. When our bishops headed by their metropolitan restored a unity of Kyiv Church with a successor of apostle Peter – His Holiness Pope of Rome. "Inevitably, the Major Archbishop mentioned, - this kind of return to the source had to be transformed into the renewal, restoration of a holy life within Kyiv Church. In twenty years Josyf Veliamyn Rutsky, Metropolitan of Kyiv started reforming monastic orders of Rus. This reform is known today as the elements of new historic being of monasticism centered within Basilian order".
His Beatitude Sviatoslav heartily congratulated monks and nuns of Saint Basilian order. "I wish you while experiencing and celebrating this year to adhere to this saying of saint Basil the Great: "Know yourself". Reveal a deeper sense of a devoted life each time. I wish you to have this year not just a year of returning to the fonts but a year of monastic renewals, acquiring a new spiritual strength. Let it be a year of a deep spiritual renewal of all our Church", wished Head of Church.
That is why he thinks this year is not only a jubilee of Basilian order. "It is an event what we as a Church need to experience deeply. We have to understand God' calling this year. I want us to become better Christians, to find a strength able to change us. We see how desperately we need changes in our social life, how much we need a renewal. We feel that's impossible to live the same old way", encouraged Head of UGCC and added that today we are asking God for a gift of renewal, gift which probable can turn to be a new impulse to a holy life, proceeding from the only name which holds a salvation for a human, - the name of Jesus.
The UGCC Department of Information
PUBLICATIONS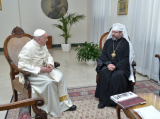 3 July at 10:00 AM, at Casa Santa Marta in the Vatican, Pope Francis met with His Beatitude Sviatoslav. The meeting was held at the request of the...
MEDIA