I wish you to be the voice of your people, His Beatitude Sviatoslav congratulated Archbishop Mokrzycki on occasion of the 10th anniversary of ingressus
Wednesday, 28 November 2018, 00:18
Monday, November 26, 2018 Archbishop Mieczysław Mokrzycki, Lviv Metropolitan of Roman Catholic Church celebrated a Mass of Gratitude in Metropolitan Cathedral Basilica to mark the 10th anniversary of ingressus.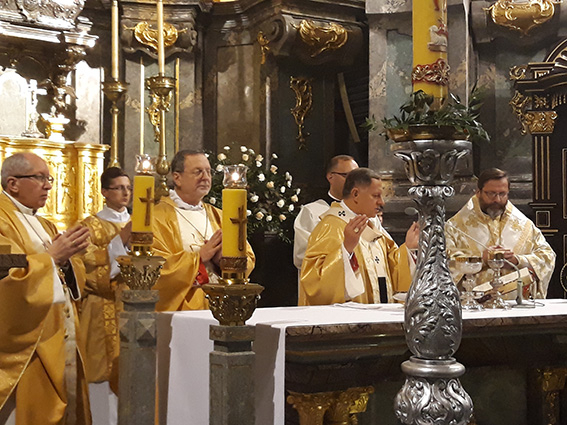 Communion was served by archbishop Claudio Gudgerotti, Apostolic nuncio in Ukraine, Head and Father of UGCC His Beatitude Sviatoslav and Jan Niemiec, bishop – auxiliary of Kamyanets-Podilskyi.
"We want to thank God, who is a Host of this celebration today, for creating this your first decennial anniversary and calling you to this service. May He be glorified for sending you to your people and Church. The Creator called you to a pastoral care in hard times, since Ukrainian people have been going through the most anxious time for the last few years of their history. Which is why a shepherd must be the voice of his people", Head of UGCC pointed out.
"I wish you to be the voice of Ukrainian people before the mighty of this world in Ukraine as well as around the world, so those people who listen up to you may say: "This is my shepherd, I know him and he knows me. He handles me with my pain, suffers too but rejoices when I am happy…" I wish you to follow Pope Francis, who reminds everyone that priest's and episcopal service is not a "power over" but a "ministering to".
It is worth mentioning that to share a joy of a celebration with bishop Mieczysław Mokrziycki arrived: catholic bishops of both rites, priests and consecrated people of Lviv Archdiocese, representatives from governments of Poland, Consul General of Poland in Lviv Rafal Wolski, public figures and numerous of faithful. A common prayer was accompanied by a chamber orchestra Nicolaus, Poland.
The UGCC Department for Information
Source: http://rkc.lviv.ua
PUBLICATIONS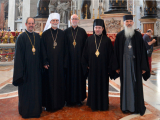 Glory to Jesus Christ! Beloved Brothers and Sisters in Christ!
MEDIA