In a CF "Caritas-Kyiv" was held a meeting between a president of US CO's monsignor John Kozar and forced migrants
Saturday, 25 July 2015, 16:51
Recently, in a CF "Caritas-Kyiv" was held a meeting between a president of the International charitable organization CNEWA and forced migrants from East Ukraine and Crimea. The talk was being conducted in a cozy atmosphere. Families with children, single mothers and families who have children-invalids – all of them shared their problems and worries with the guests, told their life stories and stories of their fortunes, crippled by war, - informs father Roman Syrotych, CF "Caritas-Kyiv" principal.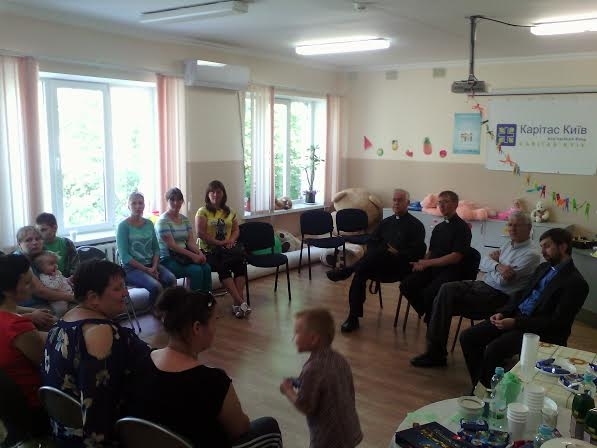 Apart from a president of CNEWA organization, in a meeting participated Andriy Vaskovych, president of Caritas Ukraine and a principal of CF "Caritas-Kyiv" father Roman Syrotych.
Compassionately and with understanding the guest listened up to each family, to the wishes of little but vigorous children who happened to go through the horrors of explosions and air-raid shelters. The present guests heard out all wishes of the migrants considering their further cooperation. Families felt the words of support, a hope to find a way out, that they are not forsaken in this life. Migrants with tears in their eyes thanked for a soft words and help, received in Caritas, both in Kyiv and Ukraine.
So far "Caritas-Kyiv" has granted various help to more than 15 thousands of forced migrants. The help has being given by delivering food, humanities, hygiene means and rehabilitation for invalids. Children are being taught in psychologically-pedagogical classes, camps; more than 120 of children are sent for a health recovery, etc. Today we have approximately 5 thousand registered people who need a help. Of course, there are plenty more people who need a help, but considering limited possibilities we have to close a registration. We help with what we are having now, later we will continue the registration. So let's be grateful to those who together with us will help in the first need those who have lost their homes, place of their dwelling and every single thing that has been there", - sums up father Roman Syrotych, a principal of CF "Caritas-Kyiv".
Press service of CF "Caritas-Kyiv"
MEDIA