In a Greek-Catholic Church in Kyiv, children prayed for just and morally pure elections
Wednesday, 24 October 2012, 11:55
During the Sunday Liturgy on October 21st more that 30 children in Saint Basil the Great Monastery of the Ukrainian Greek-Catholic Church in Kyiv prayed for just and morally pure upcoming elections.
Rev. Roman Shup'yanyi led the children's prayer.  He emphasized that this prayer was mainly addressing those who are reluctant whether to vote or those who are afraid.
"Dear God, I always need Your mercy and love , but all the more in such decisive moments of my life, when I need to properly use my gift – the gift of responsibility for my choice as a citizen," the priest began the prayer.
"In a time, brimming with lawlessness and generating  untruth, grant me a point of  reference, so that the boundary between good and evil will not become erased,  so that in our nation there can be a consolidation of  a communal and just welfare for all.  Please provide me strength not to succumb to evil will and not to permit the manipulation of my vote or the vote of my neighbor for the pleasing of someone's self-interest. Send me certainty that from my small decision, multiplied by the rightful decision of my neighbors, a blessed society will develop, based on truth, justice and morality."
In conclusion, the priest and faithful together recited the prayer "Our Father."
http://gazeta.ua/articles/life/462307/6#photos
PUBLICATIONS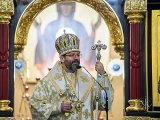 Head of the Ukrainian Greek Catholic Church brings multifaceted experience to project of evangelization.
MEDIA