In Eastern Ukraine social activity of the Church plays a significant role, - Bishop Vasyl Tuchapets
Saturday, 29 June 2019, 21:02
In Eastern Ukraine a social activity of the Church plays a significant role, especially today, in wartime, declared the Exarch of Kharkiv bishop Vasyl Tuchapets during the IX special course of PMD on mission services for seminarians held in Drohobych.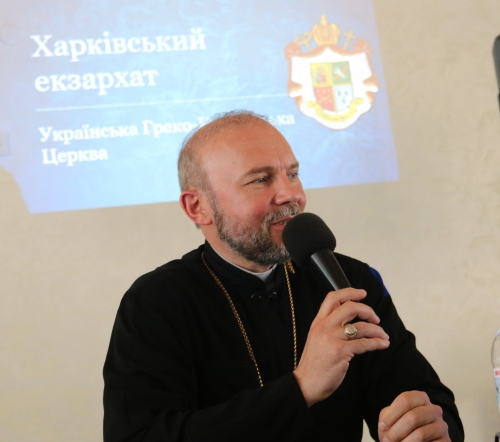 He noticed that exarchate of Kharkiv is the youngest one, formed in 2014 includes three regions: Kharkiv, Sumy and Poltava. 18 priests, 10 nuns serve in exarchate of Kharkiv today, 21 associations and 2 missionary communities are registered in Kharkiv region.
Bishop stated that two missionary communities have emerged by virtue of social service of the Church. And, because of this activity local authority expands more to the UGCC.
Endowments play a significant role in Eastern Ukraine, especially in wartime. It shows our Church from a different perspective. Amidst where Moscow patriarchate mainly prevails – owing our social activity local authority is open for collaboration with us, forming our churches and parishes in their cities", said bishop Vasyl.
He also mentioned about Caritas of exarchate of Kharkiv, established in 2014. Since over 200 thousand of forced migrants moved to Kharkiv region, Caritas has been providing a comprehensive assistance.
Chaplaincy takes its important role in the exarchate as well, particularly in the National Guard and military hospital of Kharkiv.
Nuns provide catechism classes for children, set up camps and care for youth in general. Holding "Summer holidays with God" is a priority. Here children sometimes learn the basis by praying and knowing God", exarch of Kharkiv.
Bishop said that due to war in Eastern Ukraine locals deliberately refuse to visit churches of Moscow patriarchate and look for a Ukrainian church. "War has provoked soul-searching. People want a Ukrainian Church. And our Church sticks to Ukrainian principles. Services are delivered in Ukrainian language".
pmv.ugcc.org.ua
MEDIA