In Lviv-Briukhovychi a retreat and a meeting of Catholic bishops of Ukraine began.
Monday, 10 November 2014, 12:23
On November 10th, at the Lviv Higher Spiritual Seminary of St. Joseph in Briukhovychi began the annual retreat of the Catholic bishops of both rites in Ukraine.
This year the gathering will last from November 10 to November 14, 1014. Spiritual teaching will be done by the Auxiliary Bishop of Odesa-Sinferopol RCC diocese, Yatsek Pil.
After the retreat there is planned a working meeting of the Roman Catholic and Greek-Catholic hierarchs during which they will discuss the issue of the Christian family, which had been the topic of the Synod of Bishops in Rome in October of this year. And, at the end, the Catholic bishops of the Latin Rite will participate in the 44th Conference of Roman Catholic Bishops in Ukraine (RCEU).
PUBLICATIONS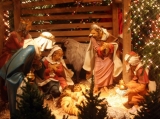 Christ is Born! "Today Christ is Born of the Virgin in Bethlehem. Today, the eternal One has a beginning, today the Word becomes...
MEDIA