In Poltava there was an ecumenical prayer for the volunteers who went to the area of ATO
Thursday, 31 July 2014, 14:44
On July 27 at Poltava Regional State Administration was held a prayer for Ukraine, which was attended by almost all religious denominations that accomplish their pastoral ministry in Poltava. During the service people prayed for peace and tranquility in the Ukrainian lands, for Poltava volunteers of special battalion of MIA, who will soon go to protect the integrity of our country in the area of ATO.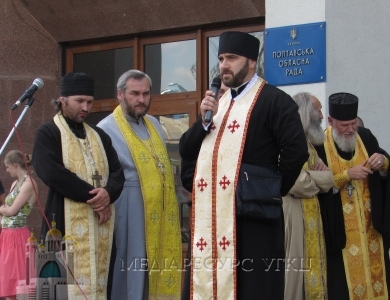 "An integral part of the minds of terrorists and those who are trying to thrust on us, Ukrainians, war - said in His speech, Father Maxym Krolevskyi - is a kind of belief, but rather, the cult of human power. Today, those who practice this cult, consider it as the most successful part of the political, social and geopolitical construction. But we, Christians are gathered here today to witness our unity and show that we profess the cult not human, but God's power".
Father Maxym thanked all the mothers and wives, whose children and husbands, risking their lives and health, protect justice, prosperity and a better future of our country.
Press service of the Parish of Holy Trinity UGCC in Poltava
PUBLICATIONS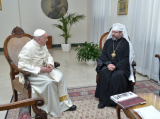 3 July at 10:00 AM, at Casa Santa Marta in the Vatican, Pope Francis met with His Beatitude Sviatoslav. The meeting was held at the request of the...
MEDIA